Let Us C by Yashavant Kanetkar is one of the best C book to begin C programming journey. Today I will share an honest review of this book.
This article is probably one of the most useful ones for computer science students and also for those who want to divulge into computer science or programming specifically.
If you're a CS student, you might have got into a dilemma about the first programming language to learn. The general trend goes like: If you're in India, it should be either C or C++ and if in US, it's Python (recent trend). However, I suggest you to opt for C as the first programming language.
Remember, it's definitely not about how many programming languages you know. It's more about if you can describe the logic into a programming language or not. I recommend you to go in for C programming as it has a very easy to understand syntax which lets you develop and focus more on the logical building approach. It helps you to get a clear understanding of programming principles which would then help you in some other programming languages.
For newbie programmers who want to start C programming, you might have again got into a dilemma that from where you should learn C programming. The online tutorial websites have created a havoc which confuses most of us.
Lets keep it short. don't think much. Go and get a Let Us C by Yashavant Kanetkar.
Now, why am I saying Let Us C? Is it because I am getting commission for every book sold? Is it because I don't want you to buy other books? Not at all. Lets take a look on some great features of this book.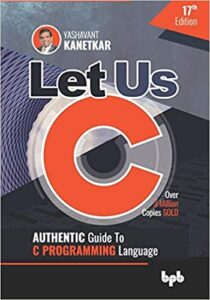 First of all, Let Us C is one of best books available worldwide for C programming (for beginners). You will find books such as ANSI C, few by Oxford Publications, and many more. But, no other book is as good as Let Us C.
Let Us C has a very good writing method which helps the newbies to grasp the concepts clear and fast. It has just perfect scripting style, font style and other presentation methods which helps to prevent confusion.
It helps to cover in most of the topics (if not all) in great detail with excellent descriptive examples that helps to develop a practical approach for programming.
After every chapter, it provides with debugging (error finding) exercises, programming exercises. It genuinely helps to improve the debugging skills, grasp each and every concept by practically implementing it into the machine (programming).
More important than anything else, it provides you to improve your logical approach along with a clear understanding of the C language elements.
Let Us C provides you with programming in two different environment along with examples. One is Windows Operating System and the other one is Linux Environment (probably Ubuntu Distribution).
This book goes in from the very basics of the programming languages and gradually it goes into high level programming with graphics development and many more.
One of the biggest advantage of getting Let Us C by Yashvant Kanetkar is that you get numerous programming assignments after every chapter. Also, Mr. Yashavant Kanetkar has published another book Let Us C Solutions which contains the answers of each and every programming assignment given behind every chapter. Hence, it helps you to get all the answers to each and every question that you may find difficult.
Once, you have completed with this book, believe me you're eligible to sit in for most of the programming interviews. This book contains almost all the important things about C programming. Remember, companies don't look for language. They look in for the logical approach of an interviewee which is definitely why you should prefer Let Us C.
If you're looking to yourself in C more than this, you must prefer Exploring C By Yashavant Kanetkar. This book contains extensive programming exercises but is normally used after you have studied Let Us C.
All these Yashavant Kanetkar books have a link that follows through and it is better to get a glance over these books to get strong programming knowledge.
I have shared the link below from where you can buy it.