Stackify Retrace is basically an Application Performance Management (APM) tool. It is one of the best APM tool available in the market.
What is APM?
As the name suggests an APM smoothens the development process of a software application by monitoring performance of the code, the dependencies on applications, tracing transactions, analyzing web performance or any other function related to improving the efficiency of the coded application.
For coders, it is requisite to own a reliable APM to examine the code, detect bugs in no-time, identifying the stack slowing the code down, effortlessly creating custom dashboards and monitoring all the other hindrances that needs to be eliminated or altered for developing a smooth application.
Stackify Retrace
Below are some features and usage of this AMP tool.
This APM is purely dedicated in monitoring codes of Java and .NET!
Provides transaction tracing at code-level with details information about the bug as shown in the image below.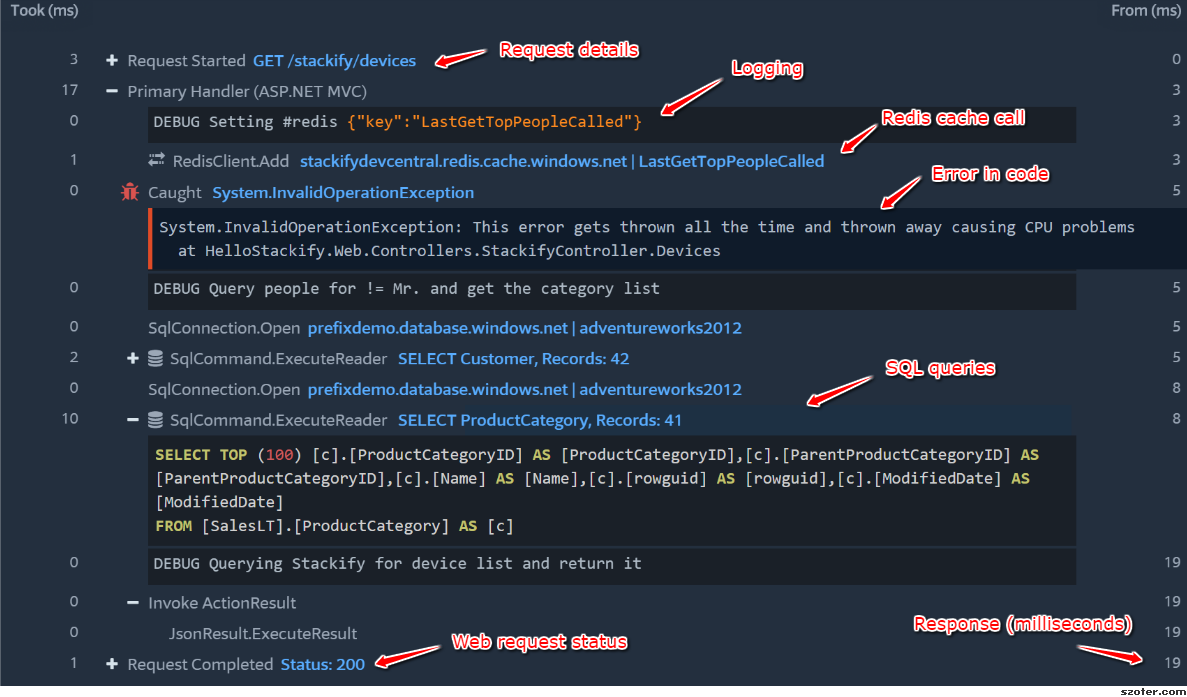 To simplify troubleshooting bugs, this app provides details of server and application logs. Windows Events, Web server logs, Syslog, and all application logs are supported by it.
Switching between log statements and the complete transaction trace is extremely swift.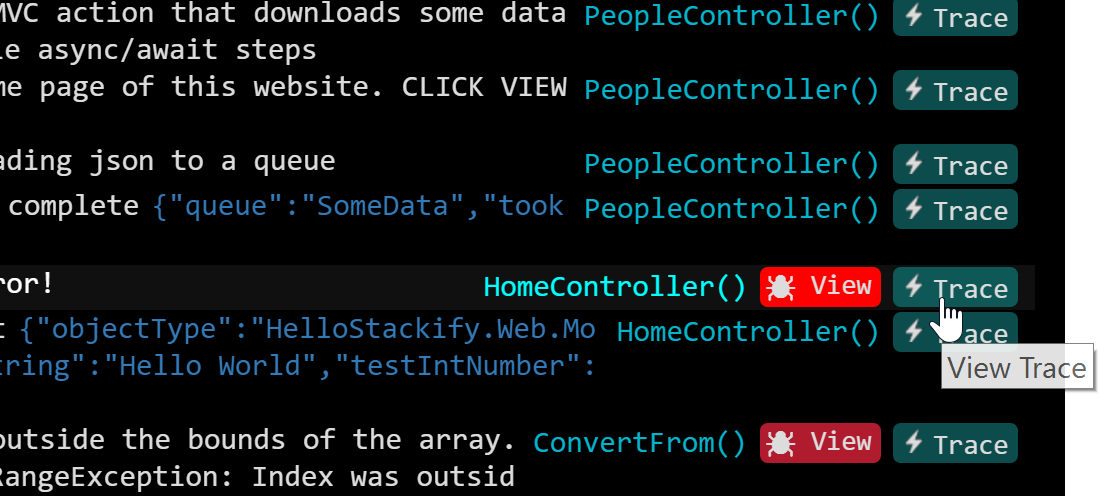 Monitoring the full application or a single web page is possible; Satisfaction score, Requests per minute, HTTP error %, Avg Page Load time can be monitored.
Stackify Retrace also offers alerts and notification scheme, by which you can also receive alerts through e-mails, SMS or slack.
Option for creating dashboards that can be custom designed by you and also be made public so that it is easy to share it with our mates and colleagues.
You can create your own custom metrics as well by writing a small code; with Stackify Retrace analyzing Performance counters and mBeans has also been facilitated.
Not only tracking errors has been simplified by this APM, but also all the details about the errors which include- 'the reason why the error occurred? At what point it started? How often this error occurs?' is provided by it.
Identifying the slow parts of the stack is another feature that this APM provides.
The monitoring performed is quick- 100/errors or 100/logs per minutes can be monitored.
Unlike other APM, the Stackify Retrace not only tells the problems in the code but also provide all kind of details associated with the problems and methods to solve those problems.
Where to Get it?
You can try this APM for free for a time-span of 14 days, download it from https://stackify.com/retrace/.
Two APM's are available on the site – Retrace Dev/Test (suitable for Pre-pod box), Retrace Production (suitable for apps in production).
Retrace Dev/Test is available for $10/ month and Retrace Production is available for $25/month (single-core), $50/month (multi-core).
Tried the Stackify Retrace APM yet? The website assures that the users have rated this particular APM with a 5 star rating, take a free trial today and let us know your experience with this particular APM in the comment section below. Strengthen the performance of your application today and The Crazy Programmer wishes all the coder friends a very Happy Coding!