Nowadays losing data is a common phenomenon! Imagine you've invested all your time in preparing an important presentation for your office and in the morning you're not able to find the same. Here, panicking is not an option, and creating it again is an absolute 'No! No!' this is the exact time where you've to act smart and use a reliable Data Recovery Software.
For explaining the whole procedure of recovering the data from USB drive we've tested prominent data recovery software named Disk Drill.
Following are the steps to recover deleted files from USB Drive.
How to Recover Deleted Files After USB Drive Corrupt?
You can download the software for free and avail a Basic Pack with recovery upto 100 Mb, Pro and Enterprise packs are also available that offers the following:
Pro Pack: Recover unlimited data, you can use the same pack in 3 different PCs, the scan is quick and more efficient, an option of partition search is available, supports all file systems and 300+ file formats.
Enterprise Pack: Recover unlimited data, infinite users can you in infinite computers, all the features of Pro Pack are available and priority support as well Commercial license is also included in the pack.
Steps to Recover Data from USB Drive
Download the setup from the Disk Drill official website.
Install the software easily by clicking Next and agreeing to all the terms and conditions.
Run the Disk Drill Software.
Here directly the software will ask you to choose the drive or partition that you need to scan as shown in the image below: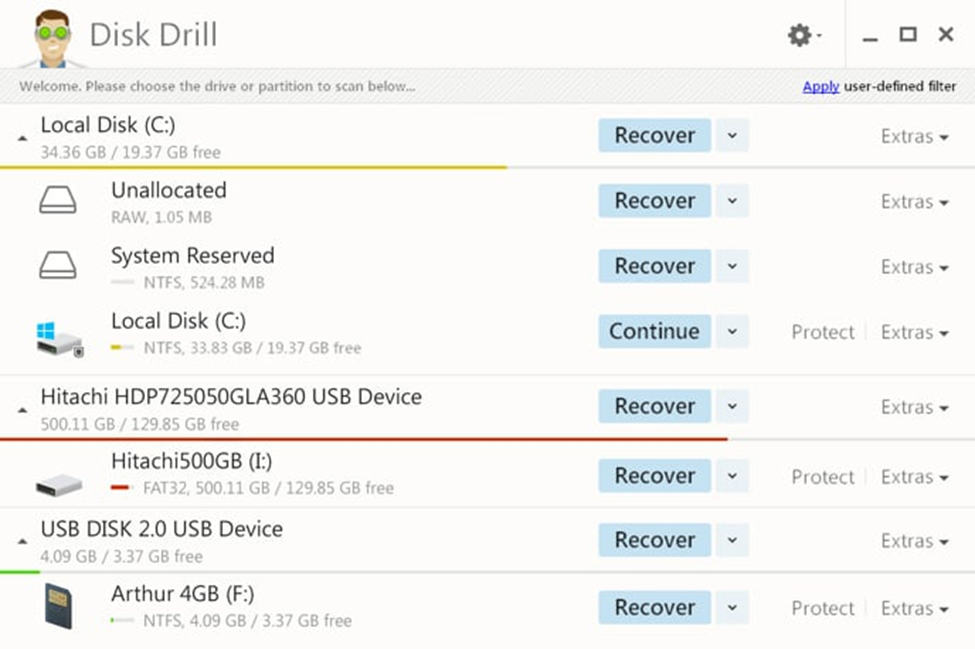 Choose the drive you want to be recovered, a scan process will run and the no. of files that are recovered will be displayed on the screen. Here you can sort the recovered files by various attributes including pictures, videos, documents, audios, archives, by Size, and by Date. The sorting option makes it easier for us to find the accurate file we're focusing on to recover. For example the software is able to find 300 lost files; it becomes difficult for us to search for that 1 particular file to be recovered. Now here we can filter the results and make our recovery procedure easy.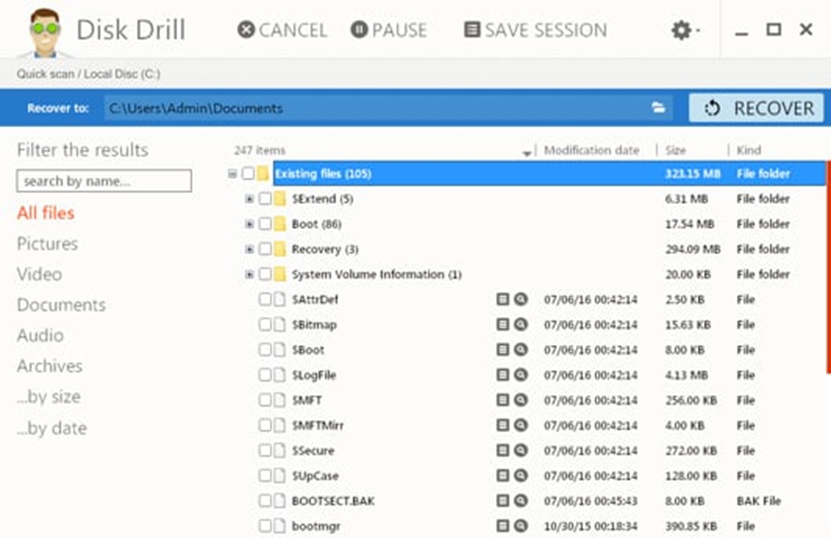 Select the files you wish to recover choose the location you want it to be saved after recovery and click on 'Recover'. Easy Breezy isn't it?
The process of recovering Data from USB or any other devices like desktop computers & Laptops, USB flash drives, Digital cameras, memory cards, and hard drives.
Using a Data Recovery Software like Disk Drill makes the task extremely easy and quick without worrying further for any Data Loss.
The Disk Drill Software has over 10 million+ Downloads and 500,000+ Pro Clients for all over the world including Business and Home Users from more than 150 countries.
Requirements of Downloading Disk Drill Data Recovery Software: Windows XP+ and 16 Mb Disk Space for windows and Mac OS X 10.8.5+ and 22MB Disk Space. The Newest Update of Disk Drill Software is 2.0.0.300. for Windows and Version 3.5.860 for macOS.
Conclusion:
The process of Data Recovery is no longer self-bothering and time-consuming, one can easily download a Data Recovery software and recover the lost data on their own, no advanced technical help is required for the same.