In this tutorial you will learn about pl/sql online compiler that will let you run pl/sql programs online.
Few days back I was writing plsql programs to share on this blog. There was no compiler installed on my system to test these programs. So I thought to run them quickly using online compiler. I found only one plsql online compiler that was on Oracle official website. You can't run the programs directly on it. You have to create account and configure workspace (its one time process only) before using the compiler. As the process was not so easy so I thought to share so that it will be easier for you.
How to Run Oracle PL/SQL Programs Online?
1. Go to https://apex.oracle.com/. Click on Get Started button.
2. Click on Free Workspace option.
3. Choose Application Development option and click Next.
4. Give first name, last name, email and any workspace name. After that click Next button.
5. Give some schema name and choose space allocation. After that click Next.
6. You will get a little survey, just choose No options and click Next button.
7. Now accept the terms and click Next.
8. Click Submit Request button.
9. Click on Continue to Sign In Screen button. This will open a sign in screen.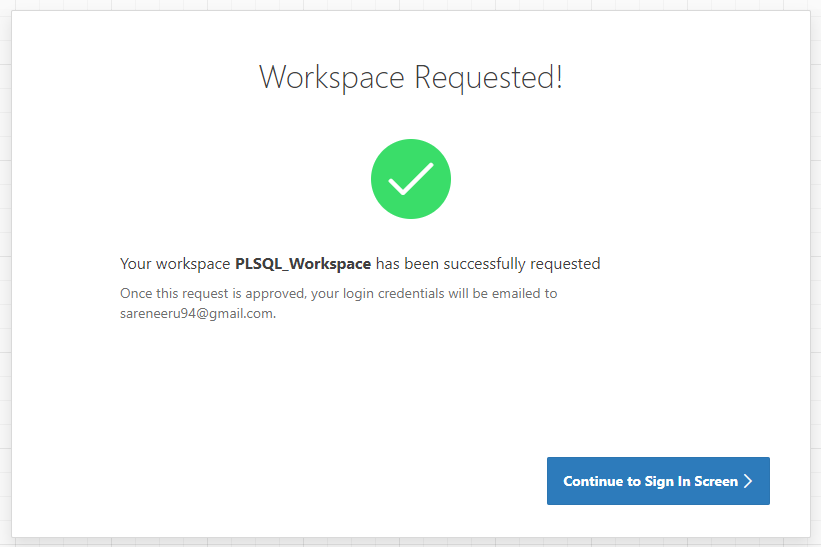 10. Open your email account, you got an email from Oracle. There click on Create Workspace button. This will open a screen where you have to setup password.
11. Now login using the workspace name, email and the password that you have just created. Remember these details because you will need it whenever you want to use online compiler.
12. After login you will see dashboard as given below. Click on SQL Workshop option.
13. Click on SQL Commands option.
14. This will bring you to editor that allows to write and run plsql programs online.
Setting up of workspace is one time process only. Now you just have to login to use pl/sql online compiler.
Comment below if you have any doubts regarding above tutorial.