Data Encryption Standard is a symmetric-key algorithm for the encrypting the data. It comes under block cipher algorithm which follows Feistel structure. Here is the block diagram of Data Encryption Standard.
Fig1: DES Algorithm Block Diagram [Image Source: Cryptography and Network Security Principles and Practices 4th Ed by William Stallings]
Explanation for above diagram: Each character of plain text converted into binary format. Every time we take 64 bits from that and give as input to DES algorithm, then it processed through 16 rounds and then converted to cipher text.
Initial Permutation: 64 bit plain text goes under initial permutation and then given to round 1. Since initial permutation step receiving 64 bits, it contains an 1×64 matrix which contains numbers from 1 to 64 but in shuffled order. After that, we arrange our original 64 bit text in the order mentioned in that matrix. [You can see the matrix in below code]
After initial permutation, 64 bit text passed through 16 rounds. In each round it processed with 48 bit key. That means we need total 16 sub keys, one for each round. See below diagram, it will show what happening in each round of algorithm.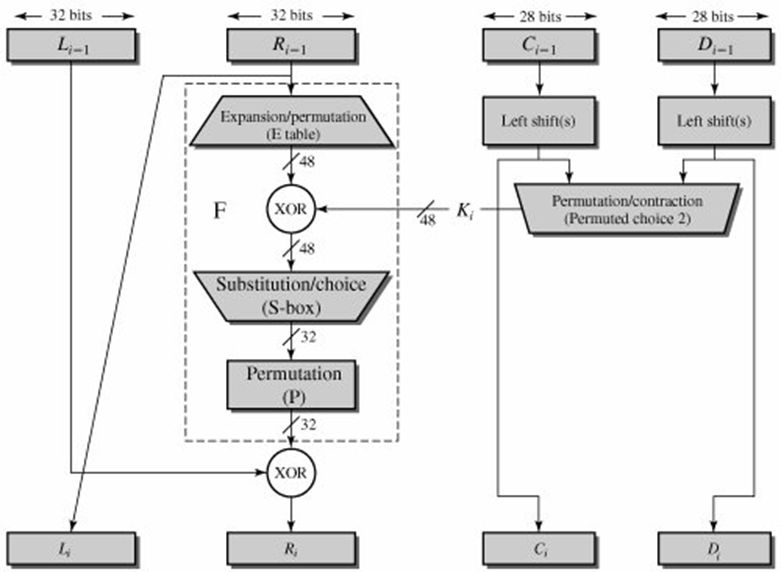 Fig2: Single Round of DES Algorithm. [Image Source: Cryptography and Network Security Principles and Practices 4th Ed by William Stallings]
Round i: In each round 64bit text divided into two 32bit parts. Left and Right. You can see in diagram Li-1 and Ri-1. As algorithm says, Right 32bits goes under Expansion Permutation.
Expansion Permutation: Right side 32bit part of text given to expansion permutation. It will produce a 48bit text as output. i.e. 16bits added in this step. Some bits below 32 are repeated and arranged in an 1×48 matrix form. We rearrange 32bit text by following the order of that matrix. [See the matrix in below code]
After expansion permutation we have to XOR the output 48bit with a 48bit sub key. Let see how that 48bit sub key generating from 64bit original key.
Permutated Choice 1: Initially we take a 64 bit key and then apply to permutated choice 1. It contains a 1×56 matrix but with shuffled 1 to 64 numbers except multiples of number 8. i.e. 8, 16, 24, 32, 40, 48, 56, 64 will be discarded. Remaining 64-8 = 56 number will be there in 1×56 matrix. We rearrange key in matrix specified order. [You can see the matrix in below code]
Left Circular Shift: 56bit key from permutated choice 1 given to left circular shift operation. Here that 56bit key divided into two equal halves of each 28bit. These 28bits shifted depends upon the round number. We already have the data that in each round how many bits circularly we have to shift. You can see this data in shifts array in code.
Permutated Choice 2: Result of Left circular shift 56bit key given to permutated choice 2. This step will produce 48bit sub key. For this it has an 1×48 matrix, in which out of 56, some random 8 bits will be discarded. And remaining 48 will be there. According to this bit positions we have to rearrange the key. You can see this matrix in below code.
Now output of permutated choice 2 will be Xor with output of expansion permutation, which results a 48bit one. This 48bit again reduced to 32bit using Substitution boxes [called S box].
Substitution boxes [S box]: In DES algorithm we have 8 S boxes. Input for S box is 48bit. And output from S box is 32 bit. The input 48 bit will be divided equally to 8 s boxes from s1, s2, … s8. So each s box will get 48/8= 6 bits as input. This Each S box reduce 6 bits to 4 bits. i.e input for each S box is 6 bits and output is 4 bits. Finally, 8*4 = 32 bit. Which is final output of S box operation.
Let see how 6bits converted to 4 bits from S box. S box is an 4×16 matrix containing numbers in range 0 to 15. Take example, assume input 6 bits for S box are 011011. In this first and last bit together represents row number. Since maximum number with two bits is 3, S box also contains 0 to 3 rows total of 4. And middle 4 numbers together represent column number. Since maximum number with 4 bits is 15, S box also contains columns 0 to 15 total of 16. So here first and last bit = 01 i.e. row number 1 and middle 4 bits 1101= 13 i.e. column number 13. So for this input the number positioned at row 1 and column 13 will be picked. As mentioned earlier S box only contains number in range 0 to 15. All can be represented in 4 bits. So picked number 4 bits are output for the S box. See the code for all S boxes.
Permutation: After getting output from all S boxes, we are applying again permutation. Here also a matrix with different arrangements will be there, we have to arrange according to that.
Final XOR: After this permutation, take the left half which initially divided 64bit text to two halves. Do XOR with this permutation output to left 32bit part. This result is new Right part. And Right 32bit part which passed through all permutation will be come as new Left Part. These 2 parts will be the inputs for the second round. Same as keys also, the parts before left shift are next round input keys.
All this explanation for a single round for a 62bit plain text. Like this, it passes through total 16 rounds.
32 bit swap: After completion of 16 rounds, final 64 bits divided into two 32 bit parts and they swap each other.
Inverse Initial Permutation: Here also a matrix will be there, in which bits are just shuffled. No adding or subtracting bits. See the code for this matrix.
Program for DES Algorithm in C
1

2

3

4

5

6

7

8

9

10

11

12

13

14

15

16

17

18

19

20

21

22

23

24

25

26

27

28

29

30

31

32

33

34

35

36

37

38

39

40

41

42

43

44

45

46

47

48

49

50

51

52

53

54

55

56

57

58

59

60

61

62

63

64

65

66

67

68

69

70

71

72

73

74

75

76

77

78

79

80

81

82

83

84

85

86

87

88

89

90

91

92

93

94

95

96

97

98

99

100

101

102

103

104

105

106

107

108

109

110

111

112

113

114

115

116

117

118

119

120

121

122

123

124

125

126

127

128

129

130

131

132

133

134

135

136

137

138

139

140

141

142

143

144

145

146

147

148

149

150

151

152

153

154

155

156

157

158

159

160

161

162

163

164

165

166

167

168

169

170

171

172

173

174

175

176

177

178

179

180

181

182

183

184

185

186

187

188

189

190

191

192

193

194

195

196

197

198

199

200

201

202

203

204

205

206

207

208

209

210

211

212

213

214

215

216

217

218

219

220

221

222

223

224

225

226

227

228

229

230

231

232

233

234

235

236

237

238

239

240

241

242

243

244

245

246

247

248

249

250

251

252

253

254

255

256

257

258

259

260

261

262

263

264

265

266

267

268

269

270

271

272

273

274

275

276

277

278

279

280

281

282

283

284

285

286

287

288

289

290

291

292

293

294

295

296

297

298

299

300

301

302

303

304

305

306

307

308

309

310

311

312

313

314

315

316

317

318

319

320

321

322

323

324

325

326

327

328

329

330

331

332

333

334

335

336

337

338

339

340

341

342

343

344

345

346

347

348

349

350

351

352

353

354

355

356

357

358

359

360

361

362

363

364

365

366

367

368

369

370

371

372

373

374

375

376

377

378

379

380

381

382

383

384

385

386

387

388

389

390

391

392

393

394

395

396

397

 

int

Original

_

key

[

64

]

=

{

// you can change key if required

0

,

0

,

0

,

1

,

0

,

0

,

1

,

1

,

0

,

0

,

1

,

1

,

0

,

1

,

0

,

0

,

0

,

1

,

0

,

1

,

0

,

1

,

1

,

1

,

0

,

1

,

1

,

1

,

1

,

0

,

0

,

1

,

1

,

0

,

0

,

1

,

1

,

0

,

1

,

1

,

1

,

0

,

1

,

1

,

1

,

1

,

0

,

0

,

1

,

1

,

0

,

1

,

1

,

1

,

1

,

1

,

1

,

1

,

1

,

1

,

0

,

0

,

0

,

1

 

int

Permutated_Choice1

[

56

]

=

{

  

57

,

49

,

41

,

33

,

25

,

17

,

  

9

,

  

1

,

58

,

50

,

42

,

34

,

26

,

18

,

  

10

,

  

2

,

59

,

51

,

43

,

35

,

27

,

  

19

,

11

,

  

3

,

60

,

52

,

44

,

36

,

  

63

,

55

,

47

,

39

,

31

,

23

,

15

,

  

7

,

62

,

54

,

46

,

38

,

30

,

22

,

  

14

,

  

6

,

61

,

53

,

45

,

37

,

29

,

  

21

,

13

,

  

5

,

28

,

20

,

12

,

  

4

 

int

Permutated_Choice2

[

48

]

=

{

 

int

Iintial

_

Permutation

[

64

]

=

{

  

58

,

50

,

42

,

34

,

26

,

18

,

10

,

2

,

  

60

,

52

,

44

,

36

,

28

,

20

,

12

,

4

,

  

62

,

54

,

46

,

38

,

30

,

22

,

14

,

6

,

  

64

,

56

,

48

,

40

,

32

,

24

,

16

,

8

,

  

57

,

49

,

41

,

33

,

25

,

17

,

  

9

,

1

,

  

59

,

51

,

43

,

35

,

27

,

19

,

11

,

3

,

  

61

,

53

,

45

,

37

,

29

,

21

,

13

,

5

,

  

63

,

55

,

47

,

39

,

31

,

23

,

15

,

7

 

int

Final_Permutation

[

]

=

  

40

,

8

,

48

,

16

,

56

,

24

,

64

,

32

,

  

39

,

7

,

47

,

15

,

55

,

23

,

63

,

31

,

  

38

,

6

,

46

,

14

,

54

,

22

,

62

,

30

,

  

37

,

5

,

45

,

13

,

53

,

21

,

61

,

29

,

  

36

,

4

,

44

,

12

,

52

,

20

,

60

,

28

,

  

35

,

3

,

43

,

11

,

51

,

19

,

59

,

27

,

  

34

,

2

,

42

,

10

,

50

,

18

,

58

,

26

,

  

33

,

1

,

41

,

  

9

,

49

,

17

,

57

,

25

 

 

 

14

,

  

4

,

13

,

  

1

,

  

2

,

15

,

11

,

  

8

,

  

3

,

10

,

  

6

,

12

,

  

5

,

  

9

,

  

0

,

  

7

,

0

,

15

,

  

7

,

  

4

,

14

,

  

2

,

13

,

  

1

,

10

,

  

6

,

12

,

11

,

  

9

,

  

5

,

  

3

,

  

8

,

4

,

  

1

,

14

,

  

8

,

13

,

  

6

,

  

2

,

11

,

15

,

12

,

  

9

,

  

7

,

  

3

,

10

,

  

5

,

  

0

,

15

,

12

,

  

8

,

  

2

,

  

4

,

  

9

,

  

1

,

  

7

,

  

5

,

11

,

  

3

,

14

,

10

,

  

0

,

  

6

,

13

 

15

,

  

1

,

  

8

,

14

,

  

6

,

11

,

  

3

,

  

4

,

  

9

,

  

7

,

  

2

,

13

,

12

,

  

0

,

  

5

,

10

,

3

,

13

,

  

4

,

  

7

,

15

,

  

2

,

  

8

,

14

,

12

,

  

0

,

  

1

,

10

,

  

6

,

  

9

,

11

,

  

5

,

0

,

14

,

  

7

,

11

,

10

,

  

4

,

13

,

  

1

,

  

5

,

  

8

,

12

,

  

6

,

  

9

,

  

3

,

  

2

,

15

,

13

,

  

8

,

10

,

  

1

,

  

3

,

15

,

  

4

,

  

2

,

11

,

  

6

,

  

7

,

12

,

  

0

,

  

5

,

14

,

  

9

 

10

,

  

0

,

  

9

,

14

,

  

6

,

  

3

,

15

,

  

5

,

  

1

,

13

,

12

,

  

7

,

11

,

  

4

,

  

2

,

  

8

,

13

,

  

7

,

  

0

,

  

9

,

  

3

,

  

4

,

  

6

,

10

,

  

2

,

  

8

,

  

5

,

14

,

12

,

11

,

15

,

  

1

,

13

,

  

6

,

  

4

,

  

9

,

  

8

,

15

,

  

3

,

  

0

,

11

,

  

1

,

  

2

,

12

,

  

5

,

10

,

14

,

  

7

,

1

,

10

,

13

,

  

0

,

  

6

,

  

9

,

  

8

,

  

7

,

  

4

,

15

,

14

,

  

3

,

11

,

  

5

,

  

2

,

12

 

7

,

13

,

14

,

  

3

,

  

0

,

  

6

,

  

9

,

10

,

  

1

,

  

2

,

  

8

,

  

5

,

11

,

12

,

  

4

,

15

,

13

,

  

8

,

11

,

  

5

,

  

6

,

15

,

  

0

,

  

3

,

  

4

,

  

7

,

  

2

,

12

,

  

1

,

10

,

14

,

  

9

,

10

,

  

6

,

  

9

,

  

0

,

12

,

11

,

  

7

,

13

,

15

,

  

1

,

  

3

,

14

,

  

5

,

  

2

,

  

8

,

  

4

,

3

,

15

,

  

0

,

  

6

,

10

,

  

1

,

13

,

  

8

,

  

9

,

  

4

,

  

5

,

11

,

12

,

  

7

,

  

2

,

14

 

2

,

12

,

  

4

,

  

1

,

  

7

,

10

,

11

,

  

6

,

  

8

,

  

5

,

  

3

,

15

,

13

,

  

0

,

14

,

  

9

,

14

,

11

,

  

2

,

12

,

  

4

,

  

7

,

13

,

  

1

,

  

5

,

  

0

,

15

,

10

,

  

3

,

  

9

,

  

8

,

  

6

,

4

,

  

2

,

  

1

,

11

,

10

,

13

,

  

7

,

  

8

,

15

,

  

9

,

12

,

  

5

,

  

6

,

  

3

,

  

0

,

14

,

11

,

  

8

,

12

,

  

7

,

  

1

,

14

,

  

2

,

13

,

  

6

,

15

,

  

0

,

  

9

,

10

,

  

4

,

  

5

,

  

3

 

12

,

  

1

,

10

,

15

,

  

9

,

  

2

,

  

6

,

  

8

,

  

0

,

13

,

  

3

,

  

4

,

14

,

  

7

,

  

5

,

11

,

10

,

15

,

  

4

,

  

2

,

  

7

,

12

,

  

9

,

  

5

,

  

6

,

  

1

,

13

,

14

,

  

0

,

11

,

  

3

,

  

8

,

9

,

14

,

15

,

  

5

,

  

2

,

  

8

,

12

,

  

3

,

  

7

,

  

0

,

  

4

,

10

,

  

1

,

13

,

11

,

  

6

,

4

,

  

3

,

  

2

,

12

,

  

9

,

  

5

,

15

,

10

,

11

,

14

,

  

1

,

  

7

,

  

6

,

  

0

,

  

8

,

13

 

4

,

11

,

  

2

,

14

,

15

,

  

0

,

  

8

,

13

,

  

3

,

12

,

  

9

,

  

7

,

  

5

,

10

,

  

6

,

  

1

,

13

,

  

0

,

11

,

  

7

,

  

4

,

  

9

,

  

1

,

10

,

14

,

  

3

,

  

5

,

12

,

  

2

,

15

,

  

8

,

  

6

,

1

,

  

4

,

11

,

13

,

12

,

  

3

,

  

7

,

14

,

10

,

15

,

  

6

,

  

8

,

  

0

,

  

5

,

  

9

,

  

2

,

6

,

11

,

13

,

  

8

,

  

1

,

  

4

,

10

,

  

7

,

  

9

,

  

5

,

  

0

,

15

,

14

,

  

2

,

  

3

,

12

 

13

,

  

2

,

  

8

,

  

4

,

  

6

,

15

,

11

,

  

1

,

10

,

  

9

,

  

3

,

14

,

  

5

,

  

0

,

12

,

  

7

,

1

,

15

,

13

,

  

8

,

10

,

  

3

,

  

7

,

  

4

,

12

,

  

5

,

  

6

,

11

,

  

0

,

14

,

  

9

,

  

2

,

7

,

11

,

  

4

,

  

1

,

  

9

,

12

,

14

,

  

2

,

  

0

,

  

6

,

10

,

13

,

15

,

  

3

,

  

5

,

  

8

,

2

,

  

1

,

14

,

  

7

,

  

4

,

10

,

  

8

,

13

,

15

,

12

,

  

9

,

  

0

,

  

3

,

  

5

,

  

6

,

11

 

int

shifts_for_each_round

[

16

]

=

{

1

,

1

,

2

,

2

,

2

,

2

,

2

,

2

,

1

,

2

,

2

,

2

,

2

,

2

,

2

,

1

}

;

int

text_to_bits

[

99999

]

,

bits_size

=

0

;

int

Left32

[

17

]

[

32

]

,

Right32

[

17

]

[

32

]

;

 

 

void

Dec_to_Binary

(

int

n

)

    

for

(

int

j

=

i

-

1

;

j

>=

0

;

j

--

)

{

text_to_bits

[

bits_size

++

]

=

binaryNum

[

j

]

;

 

for

(

int

j

=

0

;

j

<

6

;

j

++

)

 

c

=

8

*

b

[

1

]

+

4

*

b

[

2

]

+

2

*

b

[

3

]

+

b

[

4

]

;

 

 

int

PBox

(

int

pos

,

int

bit

)

 

X2

[

3

-

j

+

i

]

=

'0'

-

48

;

X2

[

3

-

j

+

i

]

=

'1'

-

48

;

 

for

(

int

i

=

0

;

i

<

8

;

i

++

)

for

(

int

j

=

0

;

j

<

6

;

j

++

)

 

for

(

int

i

=

0

;

i

<

8

;

i

++

)

 

void

expansion_function

(

int

pos

,

int

bit

)

for

(

int

i

=

0

;

i

<

48

;

i

++

)

 

void

cipher

(

int

Round

,

int

mode

)

for

(

int

i

=

0

;

i

<

32

;

i

++

)

expansion_function

(

i

,

Right32

[

Round

-

1

]

[

i

]

)

;

 

for

(

int

i

=

0

;

i

<

48

;

i

++

)

XORtext

[

i

]

=

XOR

(

EXPtext

[

i

]

,

_48bit_key

[

Round

]

[

i

]

)

;

XORtext

[

i

]

=

XOR

(

EXPtext

[

i

]

,

_48bit_key

[

17

-

Round

]

[

i

]

)

;

 

 

for

(

int

i

=

0

;

i

<

32

;

i

++

)

for

(

int

i

=

0

;

i

<

32

;

i

++

)

Right32

[

Round

]

[

i

]

=

XOR

(

Left32

[

Round

-

1

]

[

i

]

,

R

[

i

]

)

;

 

void

finalPermutation

(

int

pos

,

int

bit

)

if

(

Final_Permutation

[

i

]

==

pos

+

1

)

 

void

Encrypt_each_64_bit

(

int

plain

_

bits

[

]

)

int

IP

_

result

[

64

]

,

index

=

0

;

for

(

int

i

=

0

;

i

<

64

;

i

++

)

{

IP

_

result

[

i

]

=

plain_bits

[

Iintial_Permutation

[

i

]

]

;

for

(

int

i

=

0

;

i

<

32

;

i

++

)

Left32

[

0

]

[

i

]

=

IP_result

[

i

]

;

for

(

int

i

=

32

;

i

<

64

;

i

++

)

Right32

[

0

]

[

i

-

32

]

=

IP_result

[

i

]

;

 

for

(

int

k

=

1

;

k

<

17

;

k

++

)

{

// processing through all 16 rounds

 

for

(

int

i

=

0

;

i

<

32

;

i

++

)

Left32

[

k

]

[

i

]

=

Right32

[

k

-

1

]

[

i

]

;

// right part comes as it is to next round left part

 

for

(

int

i

=

0

;

i

<

64

;

i

++

)

{

// 32bit swap as well as Final Inverse Permutation

chiper_text

[

i

]

=

Right32

[

16

]

[

i

]

;

chiper_text

[

i

]

=

Left32

[

16

]

[

i

-

32

]

;

finalPermutation

(

i

,

chiper_text

[

i

]

)

;

 

for

(

int

i

=

0

;

i

<

64

;

i

++

)

printf

(

"%d"

,

encrypted_text

[

i

]

)

;

 

 

void

convert_Text_to_bits

(

char

*

plain_text

)

{

for

(

int

i

=

0

;

plain_text

[

i

]

;

i

++

)

{

int

asci

=

plain_text

[

i

]

;

 

void

key56to48

(

int

round

,

int

pos

,

int

bit

)

if

(

Permutated_Choice2

[

i

]

==

pos

+

1

)

_48bit_key

[

round

]

[

i

]

=

bit

;

 

int

key64to56

(

int

pos

,

int

bit

)

if

(

Permutated_Choice1

[

i

]

==

pos

+

1

)

 

void

key64to48

(

int

key

[

]

)

int

C

[

17

]

[

28

]

,

D

[

17

]

[

28

]

;

 

for

(

int

i

=

0

;

i

<

64

;

i

++

)

 

for

(

int

i

=

0

;

i

<

56

;

i

++

)

D

[

0

]

[

i

-

28

]

=

_56bit_key

[

i

]

;

 

for

(

int

x

=

1

;

x

<

17

;

x

++

)

int

shift

=

shifts_for_each_round

[

x

-

1

]

;

 

for

(

int

i

=

0

;

i

<

shift

;

i

++

)

backup

[

x

-

1

]

[

i

]

=

C

[

x

-

1

]

[

i

]

;

for

(

int

i

=

0

;

i

<

(

28

-

shift

)

;

i

++

)

C

[

x

]

[

i

]

=

C

[

x

-

1

]

[

i

+

shift

]

;

for

(

int

i

=

28

-

shift

;

i

<

28

;

i

++

)

C

[

x

]

[

i

]

=

backup

[

x

-

1

]

[

k

++

]

;

 

for

(

int

i

=

0

;

i

<

shift

;

i

++

)

backup

[

x

-

1

]

[

i

]

=

D

[

x

-

1

]

[

i

]

;

for

(

int

i

=

0

;

i

<

(

28

-

shift

)

;

i

++

)

D

[

x

]

[

i

]

=

D

[

x

-

1

]

[

i

+

shift

]

;

for

(

int

i

=

28

-

shift

;

i

<

28

;

i

++

)

D

[

x

]

[

i

]

=

backup

[

x

-

1

]

[

k

++

]

;

 

for

(

int

j

=

0

;

j

<

17

;

j

++

)

for

(

int

i

=

0

;

i

<

28

;

i

++

)

for

(

int

i

=

28

;

i

<

56

;

i

++

)

 

for

(

int

j

=

1

;

j

<

17

;

j

++

)

for

(

int

i

=

0

;

i

<

56

;

i

++

)

key56to48

(

j

,

i

,

CD

[

j

]

[

i

]

)

;

 

char

plain_text

[

]

=

"tomarrow we wiil be declaring war"

;

convert_Text_to_bits

(

plain_text

)

;

key64to48

(

Original_key

)

;

// it creates all keys for all rounds

int

_64bit_sets

=

bits_size

/

64

;

printf

(

"Decrypted output is\n"

)

;

for

(

int

i

=

0

;

i

<=

_64bit

_

sets

;

i

++

)

{

Encrypt_each_64_bit

(

text_to_bits

+

64

*

i

)

;
Output
Decrypted output is
0000111001101001001100011010111010010110111010111111111000010111001011111011111101010011011101011011000000111011100100000010110101000101011000011001000000101000001010011110101001011000111010011001110010110011011110110001101110000000001000001001000110111010