Looking for free photo editors like Photoshop to make photos and designs more professional? Adobe Photoshop is the dream of any designer and retoucher since it offers a professional toolset for creative process.
However, the biggest difficulty everyone faces is its quite high monthly price, which often becomes a deal-breaker and leads to many people searching for Photoshop torrents to avoid paying such a huge sum for Adobe products.
Luckily, it's possible to find a photo editor like Photoshop that is either completely free or cheaper and is capable of doing almost everything that Photoshop can, and sometimes even more.
7 Photo Editors Like Photoshop
Even though Adobe Photoshop is often viewed as the best option among graphics editors, its capabilities are frequently superfluous. Other than that, Adobe is transferring more and more users to the "Cloud" system, which isn't to everyone's taste.
Finally, during the last few years, people have been complaining more and more about performance drops when using Adobe software due to the heavy load it puts on the processor. It's often enough to open a couple of projects in Photoshop even on a powerful PC and you won't even be able to use your browser comfortably.
Currently, Photoshop remains the leading choice among professionals, but more and more users are searching for decent free photo editors like Photoshop.
Here we have compiled list of some best photoshop alternatives.
1. Affinity Photo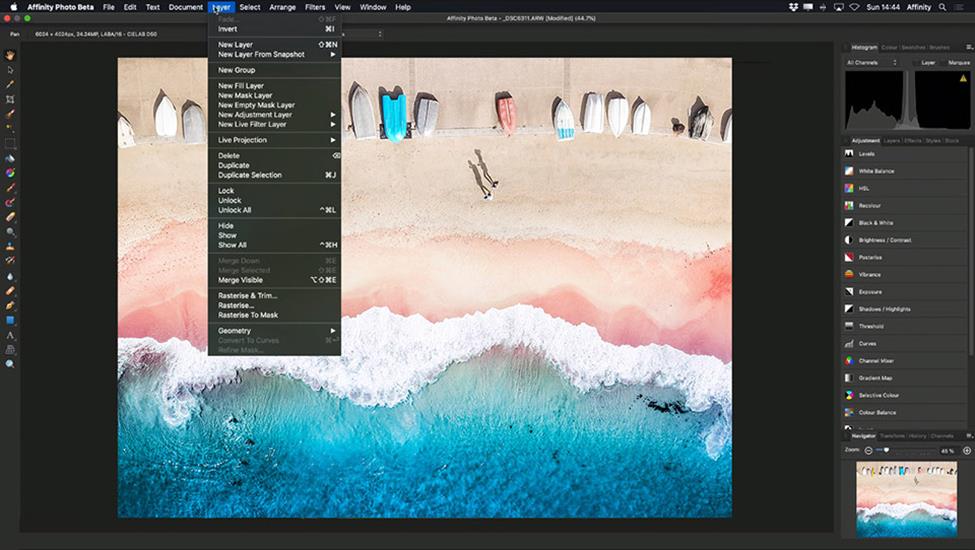 Affinity Photo started to create a stir in the creative community almost from the moment it was released. It's probably the most credible photo editor similar to Photoshop that we've seen to this day.
The program supports Photoshop's signature file standards and is aimed at photographers and designers while costing significantly less.
Being completely compatible with Photoshop and other file formats, it targets specifically professional photographers and designers. While Affinity Photo is much cheaper than Photoshop (without a subscription), its creators state that their software is actually better, promising superior performance and fewer errors.
Frankly speaking, the performance boost you receive will probably highly depend on what hardware you're using (the program was developed for using the latest quadcore technology).
Pros:
Works with RAW and PSD files
RGB, CMYK, LAB and Greyscale support
Layer-focused image editing
Cons:
Doesn't have premade lens-specific corrections
Users can't customize the workspace
Not very beginner-friendly
2. GIMP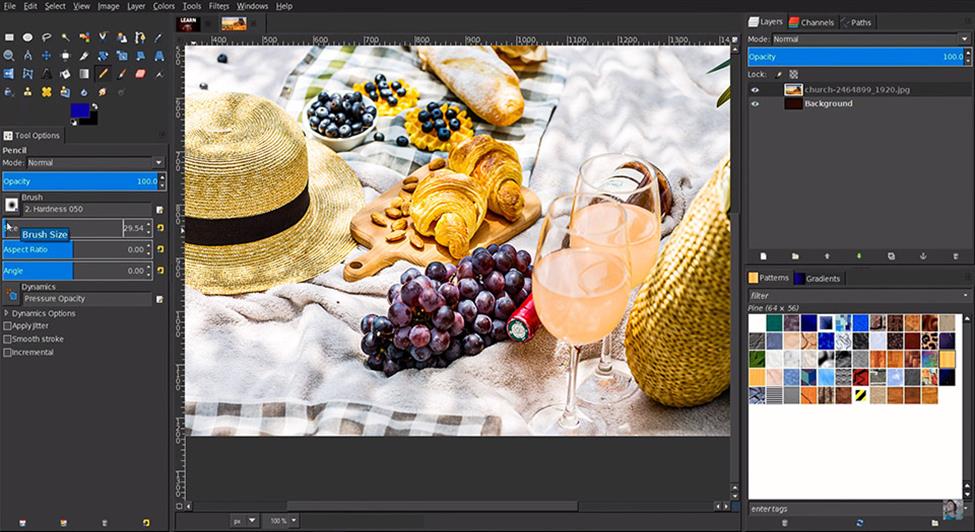 If you want to get a free photoshop alternative that is just as powerful and multifunctional, then GIMP is one of the best alternatives. It is free, open-source, which allows a huge number of volunteers to continuously improve it.
Thanks to that fact, GIMP has loads of plugins and scripts written for it and it can also work with plugins for Adobe Photoshop. Another benefit of GIMP is that it appeared all the way back in the mid-90s so you can find a huge number of free courses and guides on the web.
GIMP offers a wide selection of tools and it's a fantastic option if you're looking for a free photo editor similar to Photoshop. The UI is slightly different from Photoshop's but you can modify it to your liking.
If you find a "monstrous" program with huge system requirements and a scary price tag unappealing – GIMP is the option for you.
Pros:
Constant maintenance and updates that solve relevant issues and add new functions
Smooth performance on all platforms
Extremely versatile and easily customizable with plugins and scripts
Cons:
I didn't experience any problems but heard some people suffer from a couple of bugs
Doesn't support 16bit color channels
Some functions are in development for way too long
3. Photo Pos Pro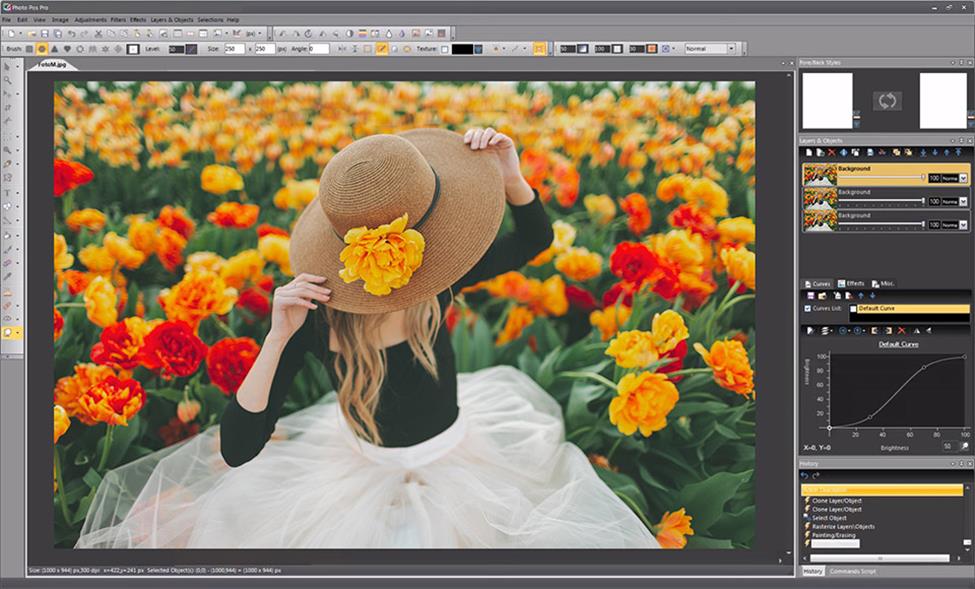 Photo Pos Pro is another decent photo editor like Photoshop that strives to be as user-friendly as possible. It has separate modes for beginners and advanced users. In beginner-mode, you can apply filters in a single click and perform basic photo corrections.
The professional mode has a UI similar to Photoshop. Most find its interface to be more intuitive and comprehensible than GIMP.
Alas, this free photo editor like Photoshop has a very serious flaw. The maximum size of saved files is limited to 1024×2014 pixels.
If you need to work with larger files, the photo editor will offer you to purchase the paid version for $20. That's a bit unpleasant, but still several times cheaper than Photoshop.
Pros:
Capability to work with layers
All kinds of brushes, templates, textures and gradients
Tools for batch, manual and automatic color correction
Cons:
No way to create your own brushes
Rather poor printing preparation functionality
4. Pixlr Editor
Pixlr Editor is a rather unusual photo editor similar to Photoshop. It's available in several versions, including PC, mobile and as an online editor. The web version is the sole reasonable Photoshop replacement since it's the only one with layer support.
Sadly, the web version of this program can't be set to full-screen since there will still be unused space on the right. However, that's the only serious drawback of Pixlr Editor.
All tools found in Ps are available and work great. Overall, this is the perfect photo editor app like Photoshop for situations when you need to edit an image but you don't have the right to install a downloadable editor.
Pros:
Available for free
Has its own smartphone app
Plenty of tools to work with
Cons:
Can be slightly overwhelming for beginners
Requires Internet connection
5. Pixelmator
Pixelmator is a universal graphics editor build on the principles of simplicity and accessibility for everyone. The program is available only on iOS and MacOS, which explains such an approach.
Pixelmator positions itself as a photo editor like Photoshop that is simpler and more intuitive.
Instead of a single workspace, here we have the main window and movable panels that you can open in the View menu or by using shortcuts. The number of picture editing tools isn't large but won't leave you complaining either.
I also want to mention the smart selection function that was added with the latest update. My subjective experience suggests that this option works better than in Photoshop and is slightly better visible.
There's no need to impose this editor on professionals, but it's a perfect fit for regular users. One of the most "magical" capabilities of Pixelmator is object removal. You pick the diameter of the selection, add a couple of brush strokes, and the photo will be cleared of any excess objects.
Pros:
Clean user-friendly UI
Large choice of effects other than photo adjustments
Drawing tools are efficient and error-free
Cons:
Doesn't offer non-destructive editing or a history panel
No CMYK and RAW support
6. PaintNet
Paintnet represents a Windows-based free photo editor like Photoshop supplied by Microsoft. However, don't let that fact scare you: despite being a default program, it's a surprisingly multifunctional and useful tool.
This option focuses on ease of use and is better suited for photo editing than artistic creations. Nonetheless, it includes a variety of special effects that allow you to easily create an artificial perspective, mix and move pixels on the canvas, select and copy areas, etc.
A solid selection toolset, layer support and such settings as curves and brightness/contrast mean that PaintNet is a wonderful free photo editor similar to Photoshop, especially if you don't need the latest additions to Ps' toolset.
Pros:
Allows working with image layers
Updates come out almost every month
Contains a satisfying number of effects
Cons:
Lack of functions for professional graphics design
7. Adobe Photoshop Express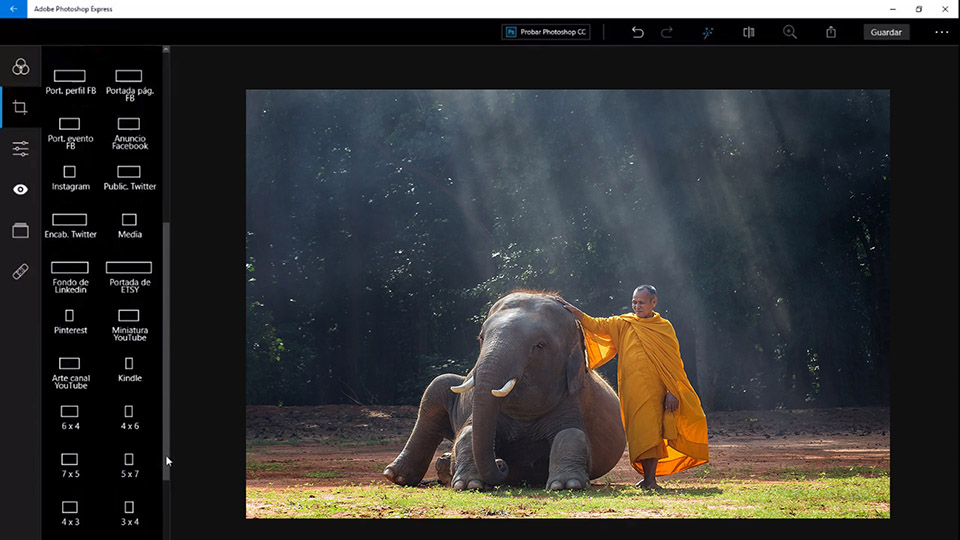 Adobe Photoshop Express can be considered a lighter, more limited version of Photoshop. This editor can be found online or as an app for Windows, iOS and Android. This is the simplest solution described in the article.
It doesn't have layer support, plugins or brushes and works only with JPEG, JPG and JPE images below 16MB. You can't even crop photos.
The only things you can find in this photo editor app like Photoshop are some basic settings and a collection of beautiful filters that you can use to enhance a photo before posting it on social media.
As you can see, it isn't suited for deep photo editing so you might as well go with a trustworthy professional photo editing service online instead for a couple of backs.
Pros:
Incredibly easy to use
Availability of basic tools
Stable performance
Cons:
Lack of most professional tools
No RAW support
Max file size of 16MB
Conclusion
If you ever start thinking about replacing Photoshop, I hope you'll take note of some of the offered programs. If you need to perform complex image editing that requires using many different tools, then Affinity Photo, GIMP or Pixelmator are perfectly suited for such a task. If all you need is to make a couple of simple adjustments (size change, rotation, basic color correction), then you should take a closer look at PaintNet or Photo Pos Pro.
If you need a photo editor like Photoshop that you can use online, straight from your browser – Pixlr and Adobe Photoshop Express are there for you. Interested in other Adobe products, read more about a legal way to download Lightroom free.
I hope you will love these photoshop alternatives. If you know about any other good editor then please mention in comments, I will love to add it to the list.