Wondering how much is a Software Engineer salary in India?
You're at the right stop, and we'll help you get your mind clear on the scope of the Software Engineers demand in India. Besides, you'll also understand how much average a Software Engineer makes based on different locations and work experience.
Who is a Software Engineer or Developer?
A software engineer plays an essential role in the field of software design and development. The developer is usually the one who helps create the ways that a software design team works.
The software developer may collaborate with the creator to integrate the program's various roles into a single structure. In addition, the engineer interacts with programmers and codecs to map different programming activities and smaller functions, merged in more significant, running programs and new applications for current applications.
Who can be a Software Engineer?
An individual must typically have a Bachelor's in information technology, computer science, or a similar field to work as a software engineer. Many organizations choose applicants for this position that can demonstrate practical programming and coding expertise.
Generally, to become a Software Engineer, one needs the following:
A bachelor's degree in Computer Engineering/Computer Science/Information Technology

Understanding of programming languages such as JAVA or Python

An acquaintance of high school mathematics 
Skills required to become an expert in Software Engineer are:
Python 

Java

C ++

Databases such as Oracle and MySQL

Basic networking concepts
These skills will help an individual grow their career in the field of Software Engineers or Developers.
However, one should also be familiar with the following given skills to excel and stay updated in the field of Software Engineering:
Object-oriented Design or OOD

Debugging a program

Testing Software 

Coding in modern languages such as Ruby, R and Go

Android Development

HTML, CSS, and JavaScript

Artificial Intelligence (AI)
Software Engineer Salary in India
According to the latest statistics from Indeed, a Software Engineer gets an average annual pay of INR 4,38,090 in India. For the past 36 months, salary figures are based on 5,031 payrolls privately submitted to India to staff and customers of software engineers through past and current job ads. A software engineer's average period is shorter than one year. 
Besides, as per the Payscale Report, the average Software Engineer salary in India is around INR 5,23,770.

So, we can conclude on this basis that the average salary of a Software Engineer lies somewhere between INR 4 to 6 lacs. 
Software Engineer Salary in India based on Experience
A software engineer at entry-level with less than one year of experience should expect an average net salary of INR 4 lacs based on a gross compensation of 2,377 wages (including tips, incentives, and overtime work). A candidate with 1-4 years of experience as a software developer receives an annual salary of INR 5-6 lacs based on approximately 15,0000 salaries in India in different locations.
A 5-9-year midcareer software engineer receives an overall amount of INR 88,492 payout based on 3,417 salaries. An advanced software engineer with 10 to 19 years ' experience will get an annual gross salary of INR 1,507,360. For the last 20 years of Software Engineers' service, they can earn a cumulative average of INR 8813,892.
Check out the Payscale graph of Software Engineer based on the work experience in India: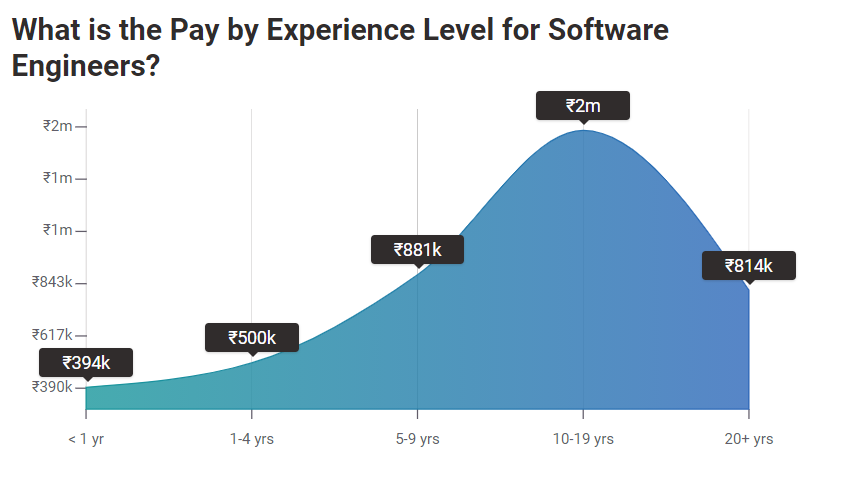 Top Employer Companies Salary Offering to Software Engineers in India
| | |
| --- | --- |
| Company | Annual Salary |
| Capgemini | INR 331k |
| Tech Mahindra Ltd | INR 382k |
| HCL Technologies | INR 388k |
| Infosys Ltd | INR 412k |
| Tata Consultancy Services Ltd | INR 431k |
| Accenture | INR 447k |
| Accenture Technology Solutions | INR 455k |
| Cisco Systems Inc. | INR 1M |
The Top company names offering jobs to Software Engineers in India are Tata Consultancy Services Limited, HCL Technologies Ltd., and Tech Mahindra Ltd. The average salary at Cisco Systems Inc is INR 1.246.679, and the recorded wages are highest. Accenture Technology Solutions and Accenture's Software Engineers earn about INR 454,933 and 446,511, respectively, and are other companies that provide high salaries for their position. At about INR 330,717, Capgemini pays the lowest. Tech Mahindra Ltd and HCL Technologies Ltd. produce the lower ends of the scale pay around INR 3,82,426 and 3,87,826.
Software Engineer Salary in India based on Popular Skills
| | |
| --- | --- |
| Skill | Average Salary |
| Python | INR 6,24,306 |
| Java | INR 5,69,020 |
| JavaScript | INR 5,31,758 |
| C# | INR 5,03,781 |
| SQL | INR 4,95,382 |
Python, Java, and JavaScript skills are aligned with a higher overall wage. On the other hand, C# Programming Language and SQL skills cost less than the average rate. 
Software Engineer Salary in India based on Location
| | |
| --- | --- |
| Location | Average Salary |
| Bangalore | INR 5,74,834 |
| Chennai | INR 4,51,541 |
| Hyderabad | INR 5,14,290 |
| Pune | INR 4,84,030 |
| Mumbai | INR 4,66,004 |
| Gurgaon | INR 6,53,951 |
Haryana receives an average of 26.6% higher than the national average workers of Software Engineer in the Gurgaon job category. In Bangalore, Karnataka (16.6% more), and Hyderabad, Andhra Pradesh (3.6 percent more), these work types also indicate higher incomes than average. In Noida, Uttar Pradesh, Mumbai, Maharashtra, and Chennai, Tamil Nadu, the lowest salaries were found (6.6% lower). The lowest salaries are 4.7% lower.
Software Engineer Salary in India based on Roles
| | |
| --- | --- |
| Role | Average Salary |
| Senior Software Engineer | INR 486k – 2m |
| Software Developer | INR 211k – 1m |
| Sr. Software Engineer / Developer / Programmer | INR 426k – 2m |
| Team Leader, IT | INR 585k – 2m |
| Information Technology (IT) Consultant | INR 389k – 2m |
| Software Engineer / Developer / Programmer | INR 219k – 1m |
| Web Developer | INR 123k – 776k |
| Associate Software Engineer | INR 238k – 1m |
| Lead Software Engineer | INR 770k – 3m |
| Java Developer | INR 198k – 1m |
FAQs related to Software Engineering Jobs and Salaries in India
Q1. How much do Software Engineer employees make?
The average salary for jobs in software engineering ranges from 5 to 63 lacs based on 6619 profiles. 
Q2. What is the highest salary offered as Software Engineer?
Highest reported salary offered to the Software Engineer is ₹145.8lakhs. The top 10% of employees earn more than ₹26.9lakhs per year. The top 1% earn more than a whopping ₹63.0lakhs per year.
Q3. What is the median salary offered as Software Engineer?
The average salary estimated so far from wage profiles is approximately 16.4 lacs per year.
Q.4 What are the most common skills required as a Software Engineer?
The most common skills required for Software Engineering are Python, Java, JavaScript, C#, C, and SQL.
Q5. What are the highest paying jobs as a Software Engineer?
The top 5 highest paying jobs as Software Engineer with reported salaries are:
Senior Sde – ₹50.4lakhs per year

Sde 3 – ₹37.5lakhs per year

Sde Iii – ₹33.2lakhs per year

Chief Software Engineer – ₹32.6lakhs per year

Staff Software Test Engineer – ₹30.6lakhs per year
Conclusion
In India, the pay of Software Engineers is one of the country's most giant packs. How much you value will depend on your abilities, your background, and the community you live in.
The Software Engineer salary in India depends on so many factors that we've listed in this post. Based on your expertise level and your work experience, you can extract as high CTC per annum in India as in other countries.
Cheers to Software Engineers!