Strong apps can do a lot for businesses of all kinds. If a business has a rock-solid app accessible to its customers, then it may achieve a lot. If it has an app that's difficult to navigate and utilize, then it may flounder and fade. It doesn't matter if you're an app developer or if you're simply an entrepreneur who is in charge of a driven business. You should take the time to learn all that you can about the wonders of mobile-first design.
This kind of design can make building custom apps streamlined and simple. If you want to be in the loop with regard to all of the latest mobile app trends, then you need to grasp mobile-first design well. It has accomplished a lot for professionals who are part of the custom app development sector.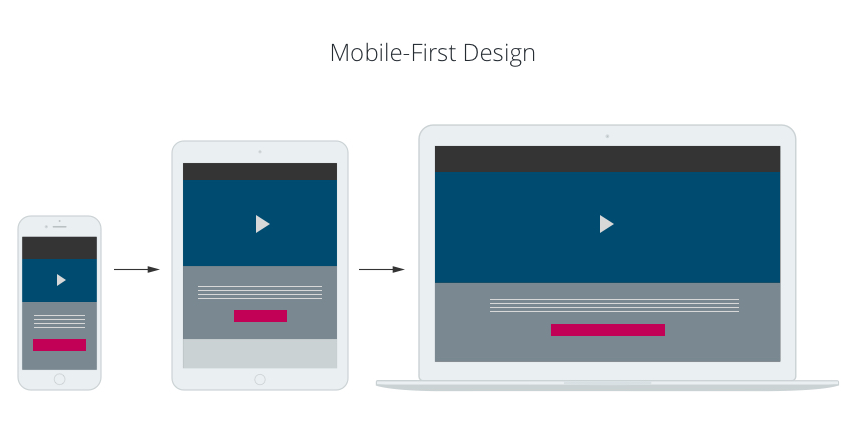 The Fundamentals of Mobile-First Design
Mobile-first design, in short, revolves around concepts such as responsive web design. Professionals who participate in this approach initiate design elements with mobile users on their brains. Mobile users generally have higher numbers of boundaries in place. After professionals concentrate on mobile users, they grow things by zeroing in on the desktop computer or tablet crowd. "Mobile first" design is exactly what it seems to be.
Significant Numbers of People
Businesses can get a lot out of relying on mobile-first strategies. That's due to the reality that people generally rely on their mobile devices more than anything else. If an individual is surfing the Internet, there's a strong chance that she's using her mobile device. There's also a strong chance that she's nowhere near a desktop computer of any sort. Proof of this is out there, too. At the beginning of 2012, consumers purchased more smartphones than they did PCs or "personal computers." This impressive rise in popularity confirms one thing for developers and company owners alike. It confirms that people need to stress the undeniable power of the mobile realm. Mobile-first is a product design concept that's becoming more and more relevant by the day.
Responsive Sites
People who depend on mobile-first design techniques can take advantage of responsive website responsive website. This design approach essentially guarantees that sites are going to be 100 percent responsive. That's how it basically guarantees that consumers are going to be able to get to it via all kinds of devices. Examples include everything from cellphones to desktop computers. If you don't want to leave anyone out in the establishment of your app or anything else, then it can help you considerably to take the mobile-first approach no matter what.
A Streamlined Approach
Mobile-first design is fascinating due to the fact that it streamlines details in a big way. That's how it gives the members of the general public details that are simple to process within their minds. If you don't want to overwhelm all of the members of your target audience, then taking the mobile-first design path may be right up your alley.
Superior User Experience or "UX"
"User Experience" or simply "UX" is anything and everything in the current digital marketing world. It doesn't matter if you're designing an app, an extensive website or anything else similar. You need to put a lot of time and energy into the user experience.
If you want the people who take the time to visit your site or utilize your app to have superb experiences, then the mobile-first design can aid you. It can be a total headache to visit a site that's terrific via standard computers only to realize that it's a mobile nightmare. If you attempt to assess a site or a map via your cellphone or anything else, then you should review how simple things are. If things seem bewildering or unreasonable, then that may be a design pitfall. Thankfully, mobile-first design often eliminates that pitfall for people.
Better Conversion Rates
Outstanding conversion rates mean so much in the modern marketing world. If you want to get your hands on conversion rates that are better than ever, then you better think about mobile-first design. Conversion rates via mobile are a lot more impressive than the ones that are associated with their basic desktop counterparts are. Well-known search engines like Google handle their rankings via certain criteria. Google assesses websites by evaluating how simple they are for people who depend on mobile devices.
A Cleaner Feel
Mobile-first design is an approach that legitimately motivates people to zero in on transparency. That's because this design does away with any and all pointless elements that relate to User Interface (UI) aesthetics and appearances. If you get rid of any and all possible interferences, then you'll without a doubt get on the path to a User Experience that's superior in caliber. This can achieve a lot for businesses that are committed to soaring.
Content Is Always the Number One Priority
It isn't at all unusual for businesses to lose sight of the things that genuinely matter and offer value. They in many cases cannot see the "forest for the trees." If you want to introduce an app that's sure to be a hit, then you need to stress the power of unrivaled content. Mobile-first design is all about intriguing content, nothing more and nothing less. Mobile-first design empowers entrepreneurs and developers who are trying to provide target audience members with content that's crucial. Mobile-first design gives developers no choice but to provide people with favorable and rare content.
Professional Assistance Is Readily Available
It's fine if you don't know how to take a mobile-first approach all by yourself. If you're trying to get the assistance that relates to building custom apps, there are many others who know exactly how you feel. These people go the extra mile to learn all that they can about the newest mobile app trends. They put a lot of thought into custom app development practices that are particularly effective and contemporary. Why exactly is the mobile-first design strategy so indispensable for individuals who want to develop their apps well? It's indispensable due to the fact that it can lead to the emergence of many thrilling opportunities and pathways.
Mobile-first design isn't anything that's rare or elusive at all nowadays. If you want to reap the rewards of this app design concept, then you need to study up on all of the finest digital marketing companies that are around you. Professionals make it easy to master mobile-first design. That's largely because there are so many people these days who are essentially mobile experience gurus.
It's not at all difficult to come across contemporary companies that manage mobile-first design. If you're eager to put together an app that makes mobile users everywhere a number one priority, then you need to look into the mobile-first design division. You should learn all about companies that offer mobile-first design guidance.