Programmers have to spend a huge amount of their time on the computer and because of these long hours of mouse usage, they develop Repetitive Strain Injuries. And using a standard mouse can aggravate these injuries.
The computer mouse puts your palm in a neutral position is the best way of alleviating such problems – enter trackball or vertical mice. With several options available in the market right now, a programmer can be a little confused to find the best mouse for their needs. Nothing to worry about, as this post will help you out.
Also Read: 8 Best Keyboards for Programming in India
Best Mouse for Programming in India
Unsurprisingly, a big mouse with an ergonomic shape fits perfectly in your hand and works great with maximum sought function. Rubber grip close to the thumb and perimeters of the mouse that makes it very less slippery is recommended by some users. Here are some of the best mice for programmers to look at.
Logitech MX Master 3 wireless mouse is one best option for a professional programmer, which is highly versatile for daily use. This mouse has an ergonomic design and is comfortable for long hours of work because of the rounded shape and thumb rest. It is good for your palm grip, though people with smaller hands may have a little trouble gripping this mouse comfortably.
Logitech MX Master 3 mouse is a well-built and heavy mouse, giving it a hefty feel. It is a wireless mouse and its latency will not be noticeable for many, it is not recommended for hardcore gamers. Looking at its positive side, it provides two scroll wheels & gesture commands that make the control scheme diverse. You can set the preferred settings that depend on which program and app you are using.
Pros:
Comfy sculpting.
Electromagnetic scroll gives precise and freewheeling motion.
Works over 3 devices, and between OSs.
Amazing battery life.
Cons:
Connectivity suffers when connected to several devices through the wireless adapter.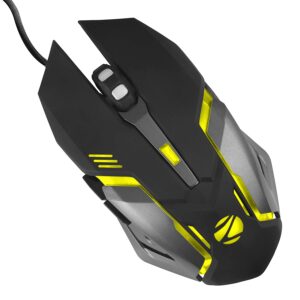 Zeb-Transformer-M optical mouse is a premium mouse, which comes with six buttons. This has a high precision sensor with a dedicated DPI switch, which will toggle over 1000, 1600, 2400, 3200 DPI. This mouse has seven breathable LED modes, a strong 1.8-meter cable, and it also comes with a quality USB connector.
This mouse is available in black color and has an ergonomic design, which has a solid structure a well as quality buttons. Besides this, this product comes versed with superior quality buttons as well as high precision with gold plated USB. It is one perfect mouse available with a USB interface and sensor optical. The cable length is 1.8 meters.
Pros:
This mouse has seven colors that can be selected as per your need.
Compact shape & ergonomic design
Top-notch quality buttons and best gaming performance.
Cons:
Keys aren't tactile.
Packaging isn't good.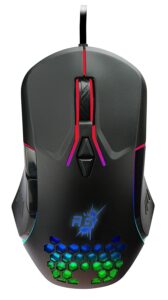 Redgear A-15 wired mouse provides maximum personalization with the software. This is the mouse very simple to control the dpi, and RGB preference according to your game or gaming setup. Initially, Redgear A15 seems to be the real gaming mouse. This all-black design & RGB lighting are quite appealing and offer a gamer vibe. Its build quality is amazing, with the high-grade exterior plastic casing, which feels fantastic.
The sides of this mouse are covered with textured rubber, and ensuring perfect grip when taking a headshot. There are 2 programmable buttons that are on the left side, and simple to reach with the thumbs. The mouse has the best overall build quality as well as provides amazing comfort.
Pros:
16.8 million customization colour option
DPI settings
High-grade plastic
2 programmable buttons
Cons:
Poor quality connection wire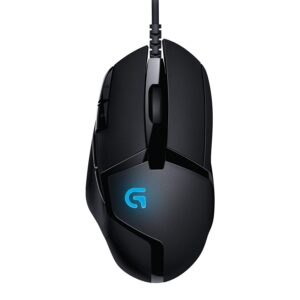 Logitech G402 Hyperion Fury wired mouse is the best-wired mouse made especially for FPS games. It is well-built, with an ergonomic shape, which is well suited for the right-handed palm and claw grip. This has a good number of programmable buttons, which include the dedicated sniper button on its side.
Besides the usual left and right buttons and scroll wheel, this mouse boasts the sniper button (with one-touch DPI), DPI up & down buttons (that cycle between 4 DPI presets), and 2 programmable thumb buttons. This mouse delivers great performance and has low click latency with high polling rate. It offers a responsive and smooth gaming experience. Sadly, it is a bit heavier, and the rubber-coated cable appears a little stiff. Also, its scroll wheel is basic and does not allow for left and right tilt input and infinite scrolling.
Pros:
Customizable software
Good ergonomics
DPI on-a-fly switch
Amazing button positioning
Cons:
A bit expensive
No discrete DPI axis
The scroll wheel is not much solid
Not perfect for the non-FPS titles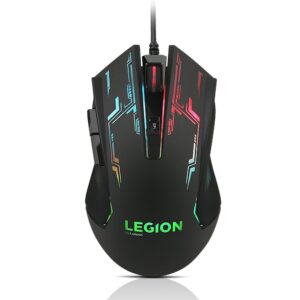 Lenovo Legion M200 RGB is wired from the Lenovo company. With its comfortable design, the mouse offers amazing functionality and performance at a very good price range. You can get the wired gaming mouse at a good price. Lenovo Legion M200 Mouse is made for amateur and beginners PC gamers. With the comfortable ambidextrous pattern, it is quite affordable but provides uncompromising features and performance.
Legion comes with 5-button design and 2400 DPI that have four levels of the DPI switch, 7 backlight colors, and braided cable. It's simple to use as well as set up without extra complicated software. It has an adjustable four-level DPI setting; 30" per second movement speed; 500 fps frame rate; seven colors circulating backlight.
Pros:
RGB lights are great
Ergonomic design
Cable quality is amazing
Build Quality is perfect
Get 1 Year Warranty
Grip is perfect
Cons:
Customization is not there.
A bit bulky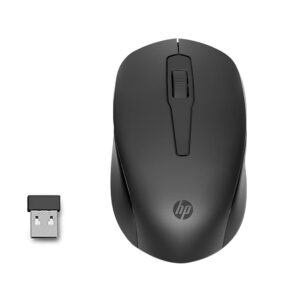 Straddling the gaming world and productivity are two important things that HP 150 Truly Ambidextrous Wireless Mouse does great. It is one of the most comfortable, satisfying, and luxurious mice with the smart leatherette sides that elevate the experience. It has an elegant ergonomic design that gives you complete comfort while using it for long hours. It feels quite natural, you will forget that you are holding a mouse.
The mouse has 3 buttons. Right-click, left-click, and center clicks on the dual-function wheel. You have got all control that you want in just one fingertip. With a 1600 DPI sensor, the mouse works great on any surface with great accuracy. Just stash this mouse with your laptop in your bag and you are set to go.
Pros:
Looks great
Comfortable
Great click action
Cons: 
Wireless charging
The scroll wheel feels a bit light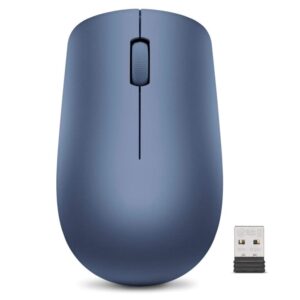 Lenovo 530 Wireless Mouse is perfect for controlling your PC easily at any time and any place. This provides cordless convenience with a 2.4 GHz nano-receiver, which means you may seamlessly scroll without any clutter in the area. This has a contoured design and soft-touch finish to get complete comfort.
It is a plug-n-play device, with cordless convenience it has a 2.4 GHz wireless feature through a nano USB receiver. Get all-day comfort & maximum ergonomics with the contoured and unique design and soft and durable finish. Lenovo 530 Mouse is just a perfect mouse-of-choice.
Pros:
Best travel mouse for work or for greater control.
Available in five different color variants.
Long 12month battery life.
Can work with another brand laptop.
Cons:
The dual-tone finish makes it look a bit cheap.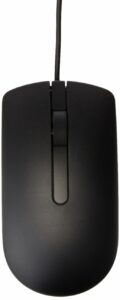 If you are looking for an affordable and good feature mouse for daily work, which is comfortable for use, get a Dell MS116 mouse. It is one perfect mouse that you are searching for. Dell mouse has optical LED tracking & supports a decent 1000 dpi, and making this mouse perform at a reasonable speed & accuracy. It is the wired mouse that has got batteries to work smoothly. Dell MS116 mouse comes in a black matte finish.
The mouse is pretty compatible with any other device – no matter whether it is Mac OS or Windows, or Linux. This mouse is quite affordable. There aren't many products in this price range, which give you such a good accuracy as well as performance, as Dell MS116 optical mouse does.
Pros:

The grip of this mouse is highly comfortable to users when working.
Available at an affordable rate.
The durability of the product is great long.
Cons:
The Bluetooth facility isn't given.
Not made for playing games.
The warranty period of the mouse is short.

Final Words
Preferably, the highly convenient and handy mouse for programmers will be one with the best comfort and designs that fit your hand and hold design perfectly. A flawless device won't just make you very less worn out yet suggest lesser threats to your overall health in the future.
Among different mouse styles with mild improvements, certainly, you will find quite fascinating ones, like the upright controller or trackball. Despite how unusual they appear, these layouts have verified benefits and seem to be easy to get used to. These are some top-rated mouse for programmers.