When programming and coding for a longer time frame, it is very important to have a comfortable monitor that does not strain your eyes much. It is very important to get the monitor that's the right size, with sufficient screen size to have several windows open and work comfortably without any squint.
You must consider a flicker-free monitor since backlight flicker will cause eye strain and headaches with longer use. Generally, programmers prefer working with one or more monitors, since you will have the editor open at one and specifications open over another.
Things to Consider When Buying Monitor for Programming
Buying the right monitor for your programming and development needs is not very simple as visiting the local electronics shop and spending your money on the first one that you see. You have to consider certain things so that you are sure you will get the best programming monitor for the work. Here are a few things to consider before buying monitors for programming, check them out.
Screen Size
Many people think that the bigger screen size is better but thinking about it can help you determine the use of the monitor. Is it necessary to be big? Not exactly, you will save money by going for the smaller model. But, you have to consider how close you are going to be to the screen & for how long?
Resolution
The second important thing you must consider when buying a monitor is the resolution. Whereas most of the monitors nowadays are HD, and not all monitors are full 1080p —make sure you check it out before buying the monitor. You can also consider a 4K monitor for the ultimate viewing experience.
Extra Ports
Some of the top monitors have many HDMI-in ports. Choose a unit with enough HDMI ports that will plug in your equipment, and extras that include HDMI-out connections, DisplayPort, and USB hubs.
Stand and Flexibility
For each monitor, they have got their stand. The majority of the stands that come with the monitor will be angle-adjustable and vary in degrees and can easily be adjusted. Ensure you can adjust its height too.
Best Monitors for Programming in India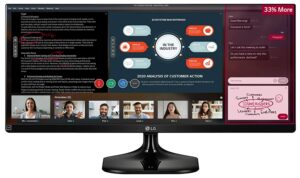 The LG 25UM58 monitor is the best for its range. Because of the high resolution (size) and IPS panel, this monitor provides crisp details and vivid colours, and wide viewing angles with a fast response rate.
Performance:
The LG 25UM58 monitor for programming offers amazing and smooth performance. This has a low input lag of ~9ms, thus you will not notice any further delays when doing the coding. It has a very good performance.
Design:
The LG 25UM58 monitor has a tilt stand, thus you can't adjust the height of the screen. But, there're 75x75mm holes given for the VESA mount, thus you may attach a monitor to the 3rd party stand. The connectivity options have two different HDMI 1.4 ports & a headphones jack. There're not any built-in speakers or USB ports with it.
Features:
Looking at the display features, this monitor offers many useful features that include On-Screen Control that allows you to adjust On-Screen Display in the desktop application with a mouse or keyboard.
| | |
| --- | --- |
| Pros | Cons |
| High pixel density | Tilt-only stand |
| Vibrant colors & wide viewing angles | No AMD FreeSync |
| Low input lag & fast response time | Small and short screen |
| Many useful features | – |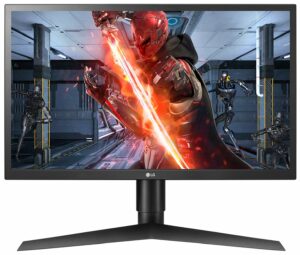 The LG 24GL600F monitor is the most economical entry-level programming monitor, which includes everything that the professional coder may need, which includes quick response time, low input lag, Motion Blur Reduction and FreeSync.
Performance:
Performance-wise this monitor performance is high-quality with just ~4ms delay at 144Hz that will be perfect for the professional programmer. If you prefer a graphically oriented task, you may have to consider the higher resolution or lower refresh rate instead.
Design:
As you may see, the monitor has a design that is similar to the previous one. When compared to the current design trends, the design of LG 24GL650 is a bit dated, as the predecessor. It doesn't have any borderless bezels and isn't thin.
Features:
The features of this monitor have an advanced and organized OSD menu compared to the LG's previous displays. Also, navigation is quite effortless because of the joystick, which is placed under the bottom bezel of the screen.
| | |
| --- | --- |
| Pros | Cons |
| Low input lag & quick response time | Tilt-only stand |
| Motion Blur Reduction | Dated design |
| Useful features like FreeSync | – |
| Good value for price | – |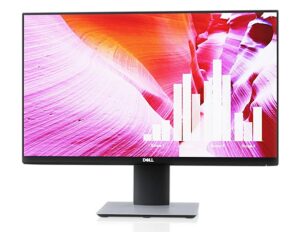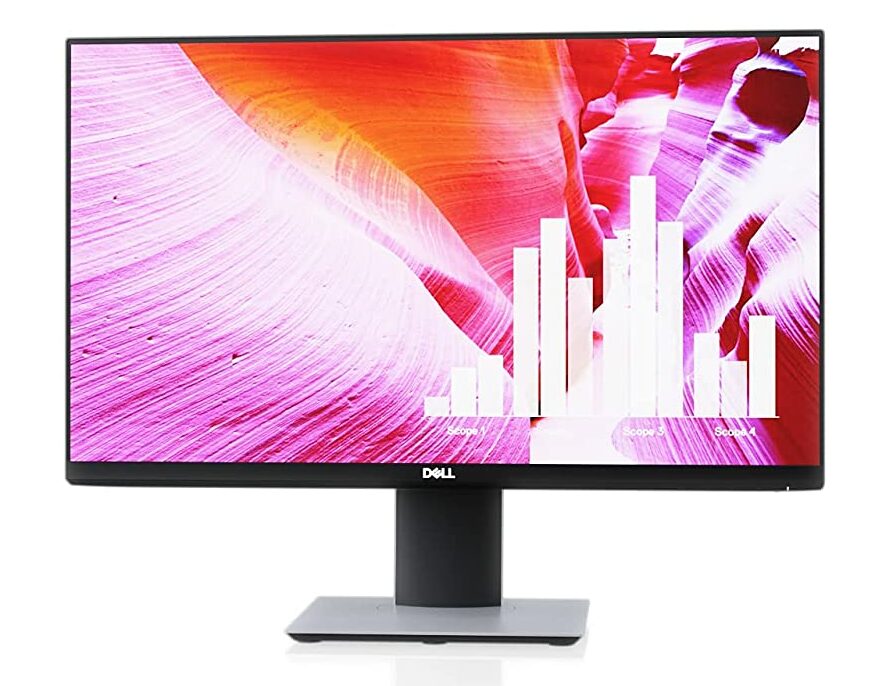 Dell 24 Monitor is a 24inch professional monitor with an amazing port selection and an ergonomic stand. It is one of the best monitors in this range.
Performance:
By setting its 'Response Time' to 'Fast,' this monitor increases the speed of response time from its regular 8ms to 5ms with grey pixel transition. It helps to eliminate ghosting or trailing of the moving objects, but as the monitor is a bit limited to 60Hz, it won't be of any interest anyway.
Design:
Despite the monitor being a larger one, its screen is lightweight and easy to move from one place to another. The ultrathin bezel is made for this screen to get combined with several monitors that will help to increase productivity by over 18%. There are no internal speakers available.
Features:
The On-Screen Display (OSD) menu includes standard adjustments like colour settings, brightness or contrast, hue or saturation, and even input source selection, however, there are not any gamma presets. Using the monitor's hotkey, one can swap between various picture presets, which includes Standard, Movie, ComfortView, Warm, Game, Cool, and even Custom Color.
| | |
| --- | --- |
| Pros | Cons |
| Pivot control & use with multiple monitors | No internal speakers |
| Small footprint | Resolution limited 1080p |
| Compact | – |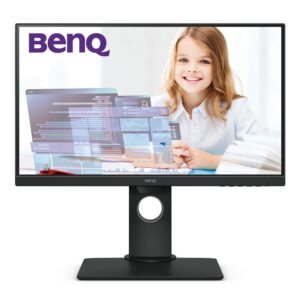 The GW2480 monitor is quite an affordable piece with a 24″ 1080p monitor. It's particularly good for office-related use because of the innovative eye-care features and technology.
Performance:
With an input lag of 10ms, there's not any perceptible delay between the commands and results on a screen. The display of BenQ GW2480 IPS has a fast response time of 5ms that ensures no prominent ghosting or trailing of the moving objects.
Design:
The design of BenQ GW2480 1080p is quite modern with thin bezels & a premium textured finish. Furthermore, it has got a good cable management system; and an important part of the stand has to be removed for concealing its cables. There are headphones jack & 1W integrated speakers.
Features:
The BenQ GW2480 monitor stands out from other 24″ 1080p models with its amazing Brightness Intelligence Technology. The technology includes a built-in sensor, which will automatically tweak its screen brightness as per the ambient lighting.
| | |
| --- | --- |
| Pros | Cons |
| Good value for your price | No AMD FreeSync |
| Low input lag & quick response time | Tilt-only design |
| DisplayPort | – |
| Unique Brightness Intelligence technology | – |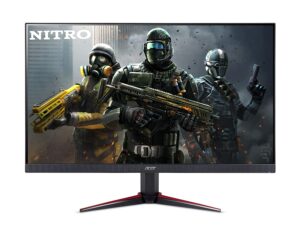 Are you looking to update your current monitor with a new and updated version? Acer Nitro VG240YS is the right choice for you.
Performance:
The Nitro VG240YS monitor has 1ms Visual Response Boost. This is the new technology, which creates the illusion of 1ms MPRT. It does it by turning off its backlight of black image over frames, it results in the less noticeable change of colour when the colours shift fast.
Design:
The Nitro VG240YS generally comes with easy looking design without several embellishing elements, besides the red highlight on its stand. These bezels are very thin that helps in increasing your viewing area and makes them suitable for the multi-monitor setup. The overall appearance of this monitor is simple and elegant.
Features:
The monitor comes with the IPS display and AMD Radeon SYNC Technology and supports the Nvidia G-Sync. This covers 100 per cent of the sRGB colour gamut & supports 8bit colour depth through dithering.
| | |
| --- | --- |
| Pros | Cons |
| Amazing color display | Stand can just tilt |
| Great features | Tilt-only design |
| Impressive IPS panel | – |

The LC24F390FHWXXL monitor is a 23.5" HD Monitor and has all the amazing qualities that a monitor must-have.
Performance:
There is an HDMI option available in the monitor and the VGA option is there too that will keep up with their customers demand in the market.
Design:
Samsung is known for providing an amazing design in all their monitors and the majority of them are very good in quality and LC24F390FHWXXL is among them. This quality monitor from Samsung has a full HD display and comes with a VA panel & black is a common colour.
Features:
The monitor has got LED-backlit display and has a resolution of 1920×1080 pixels. And 16.7m colours are accessible in the monitor and have 250 nits brightness.
| | |
| --- | --- |
| Pros | Cons |
| Great picture quality | Not 3D monitor |
| Both VGA and HDMI options | No inbuilt speaker |
| Curved monitor | Build quality is average |

Final Words
Just like other professions out there, being a coder or programmer needs to have the high-tech to make the job simple. With our selection of the best monitors for programming and coding, we are sure whichever monitor you select will work great for you.