CCNA and CCNP, both are Cisco approved certification courses, which are very popular among those who seek a career in the computer networking line.
Cisco is a very reputed and well-settled organization that manufactures and sells network-related equipment and solutions. In 1998 Cisco started this initiative to provide proper training in a certification module to find out the best human power. The main objective behind this is that company does not need to look out for the correct and suitable employees instead the interested candidate can enroll in the course so the company has a database of really interested and well-trained candidates on board. This idea filters the non-enthusiastic person from the list so that the company can find out real talent.
Here CCNA stands for Cisco Certified Network Associate and CCNP stands for Cisco Certified Network Professional.
If you have a little technical and networking-related knowledge and wanted to pursue a career in the same field as a team member then CCNA is a good option. But if you wanted to gain deep knowledge and become a network engineer then CCNP is a good choice over CCNA.
Cisco Certified Network Associate (CCNA)
By completing CCNA we can enhance our knowledge about networking skills, and gain the ability to create, manage and control networking devices and architecture, including software and hardware. The main focus is given on switching and routing technology.
This certification is a valid course so after finishing it we can apply for Network associate in any related firm. Cisco is also expecting its aspirants to join the Cisco community.
After completing this course one can:
Easily understand any network and its functionality.
Create mid-level network system.
Create, understand, and explain different network topologies.
Provide better communication and transaction channels in existing networks.
CCNA is the second level of Cisco's five-level career certification process as given below: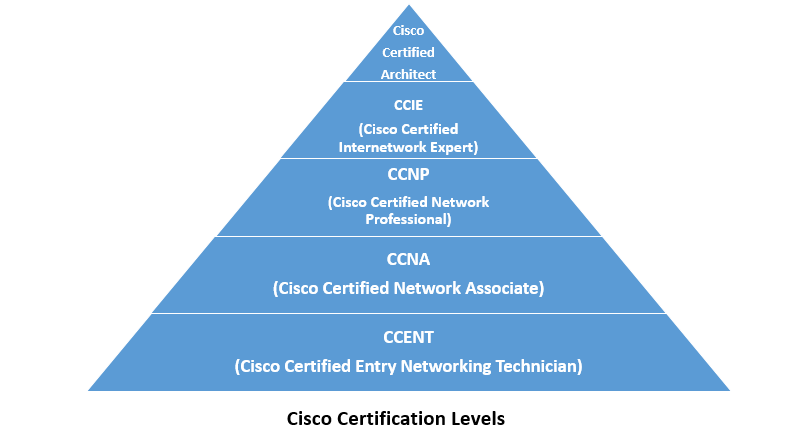 Course Coverage
The CCNA covers a huge category of topics as given below:
LAN/WAN for network creation and management
TCP/IP model for end system management
Switches and routers for connectivity
security fundamentals to prevent unauthorized access
Network utilities for data consistency
Noise control and removal for prevent data loss
NAT and ACLs for configuration understanding
IP addressing and subnetting for data pack distribution
Storage networking for data storage
VLANs for faster communication
Routing protocols for device control
WLAN for range enhancement
Automation and programmability for error-free continuous running environment
Cisco also focuses on employees' soft skills development also so that a better teamwork environment can be achieved. This is a non-technical part of the training which includes:
Communication and ethics development
Resource utilization
Creative and Critical Thinking
Develop and Improve Problem-Solving skills
Time Management
Teamwork
Deadline management
Continuous learning and self-development skills
Types of CCNA
We can choose the desired CCNA course from given list of all CCNA courses:
Cloud for design and manage cloud-oriented network
Collaboration for design network video engineering, IP telephony and network engineering
Data center for install and configure data center
Industrial for implement standards protocols
Routing and switching for network communication technology
Security for available data and devices
Service provider for configure, implement and troubleshoot next generation networks
Wireless for wireless LAN Configuration, monitoring and troubleshooting
Cyber ops for Cyber Security analysis field
Institutes
Today multiple private and government colleges, universities, and institutes are available that offer Cisco training. These are recognized and approved members of the Cisco Networking Academy. Only professionals can hold such an organization. So, if you go for admission then first check the institute's validity. You can find the near by center online. Here we give a list of few good institutes:
NetworkBulls
Network Geeks
MAXX Networking Technologies
I-Medita solutions
Networkers Guru
IIHT
EIIT
NIIT
Cyber Security Studies and Research Laboratory
ACIT Education Pvt Ltd
Net Experts India
GIT IT ACADEMY
Validity
Once the certification is completed, we receive the certificate but it's valid for three years from the date of issuing. This is because technology is changing rapidly so we need to update ourselves to maintain our certification.
If we get a job in this 3-year time period then no need for recertification. But if we fail to do so then we need to go through recertification.
For this either we can opt for a higher-level exam or retake the previous exam. The choice is based on the motive of recertification.
Eligibility
12th pass or Graduate (any technical or non-technical degree from a valid institute)
One or more years of experience in implementing and administering Cisco solutions.
Fees
20-30,000 in INR
CCNA Exam Details
We need to qualify CCNA exam 200-301 CCNA.
The duration of the exam is 120 minutes, and is available in English and Japanese languages.
The overall syllabus is divided in the following parts:
IP connectivity (25%)
Network access (20%)
Network fundamentals (20%)
Security fundamentals (15%)
Automation and programmability (10%)
IP services (10%)
How to Prepare?
Remember one thing clearly "CCNA is a certificate means we need to pass the exam organized by Cisco."
For preparation we need to study and cover the syllabus from any registered institute. Also, we can prepare ourselves from online classes and study materials. Once we are sure we can give online exams.
How to Give Exam?
Once we are all set, then we have to schedule a test appointment on Pearson VUE portal. It's a global training and testing company partnering with Cisco. This company have multiple test centers worldwide. We can choose the center as per our choice. The test is online and result is produced on the spot after finishing the exam.
Once we qualify the exam we are rewarded with online certificate.
If one can not pass the exam, they can give exam again after few time.
Possible Job Roles
Entry-level network engineer
Technical support Engineer
Help desk technician
Network administrator
Network support technician
IT manager
Cisco Certified Network Professional (CCNP)
The CCNP certification is for those who wanted to gain deep knowledge so that they can create network architecture. The CCNP certification curriculum carry following sections:
Cisco advanced routing
Cisco multilayer switching
Converged network optimization
Cisco remote access
Scalable internet works
CCNP is the 3rd level of Cisco's five-level career certification process.
CCNP focuses on Network architecture so the prime object is to create, install, and troubleshoot wide area networks (WAN) and local area networks (LAN).
Course Coverage
IPv4 Addressing
IPv6 Addressing
TCP & UDP
The Routing Table
Classful v/s Classless Routing
Static v/s Dynamic Routing
Configuring Static Routes
Default Routing
Dynamic Routing Protocols
Advanced Routing Functions
Soft skills are similar as CCNA.
CCNP Exam Details
To become CCNP certified professional we need to clear 3 exams as given below:
300-101 ROUTE Implementing Cisco IP Routing (ROUTE)
300-115 SWITCH Implementing Cisco IP Switched Networks (SWITCH)
300-135 TSHOOT Troubleshooting and Maintaining Cisco IP Networks (TSHOOT)
Types of CCNP
Similar as CCNA
Institute
Similar as CCNA
Validity
Similar as CCNA
Eligibility
Similar as CCNA
CCNA certification is required
Fees
15000-75000 INR
Exam Registration and Attempt
Similar as CCNA
Possible Job Roles
Third Line Support
Network Engineer
IT Team leader
Network Analyst
Network Specialist
Systems Engineer
CCNA vs CCNP
Both CCNA and CCNP are quite similar but the basic differences are as given below:
Points
CCNA
CCNP
Eligibility
No minimum eligibility

Should have CCNA
Curriculum skill

Basic networking

Advanced networking

Exam type

Associate

Professional
Main object
switching and routing

LANs and WANs

Career Path
Network technician
Helpdesk Engineer
Service Desk Engineer
Network support engineer
First and Second line support
Third Line Support
Network Engineer
IT Team leader
Network Analyst
Network Specialist
Systems Engineer