Kathleen Hylda Valerie Booth was born on 9 July 1922 in Stourbridge Worcestershire, England. She was a British computer scientist and mathematician and she wrote the first assembly language.
| | |
| --- | --- |
| Name | Kathleen Hylda Valerie Booth |
| Birthday | 9 July 1922 |
| Birthplace | Stourbridge Worcestershire, England |
| Father | Fedrick Jhon Bitter |
| Mother | Gladys Kitchen |
| Husband | Andrew Donald Booth |
| Field | Computer Science |
| Institution | Birkbeck College |
| Died | 29 september 2022 |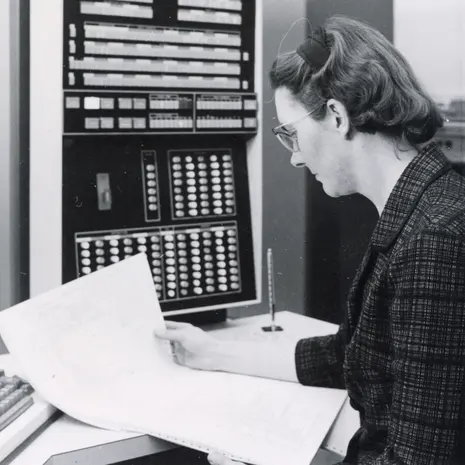 Early Life
Her father's name was Fedrick jhon bitter he was a tax inspector and her mother's name was Gladys Kitchen. Kathleen was the second child among their three children. In the year 1929, she started her schooling at St Poul's convent in Sutton Coldfield. She completed her primary education at this institution. She started her secondary education at St Poul's high school in the year 1932 which was founded in 1929. After studying for one year at St Poul's high school she entered King Edward VI's High School for Girls, Birmingham in 1934. In the year 1939, when war was declared girls were gone at Pates grammar school, Cheltenham. There she completed her schooling.
She earned her bachelor's degree in mathematics in the year 1944. She got married in 1950 with her colleague Andrew donald booth and she had two children. In the year 1951, she won a scholarship of 40 pounds at Royal Holloway College, London.
Career
She started working on the development of the first commercial computer, Ferranti Mark 1 in the 1950s. And she was also part of the team who were creating the first assembly language. This made coding easier for programmers because they can use mnemonic symbols instead binary numbers. After that, she was involved in the development of COBOL, a programming language that was designed for business applications. COBOL is still used in many financial and administrative systems.
The contribution of Booth's work to the development of programming languages made programming more accessible and easier. Her work in the field of computer science played a vital role in the evolution of the field.
She worked at Royal Aircraft Establishment as a junior scientist in 1944. Later she worked as a research scientist at the British rubber producers research association from 1946 to 1962. From 1952 to 1962 she worked as a research fellow and as a lecturer at Birkbeck College.
In the year 1958, she wrote her first book and described how to program APE(X) computer.
Death
Kathleen died on 29 September 2022, several weeks after her 100th birthday. She celebrated her last birthday on 9th July 2022. On the day of 9th June 2022, a memorial lecture of both Kathleen and Andrew was given at Birkbeck College.
Awards
In the year 1970, she was elected as a fellow of the computer society.
She got the Ada Lovelace Award in 1988.
She was awarded an honorary degree by Berkbick College for her contribution to computer science in the year 2013.
In the year 2016, she was inducted into the Women in technology international hall of Fame.