89% of customers shop from a competitor if they have a poor experience with your website.
By 2023, 22% of global retail sales will happen online.
Increasing your website speed by one second translates to 7% higher conversions.
Thus, you must build a website for your small business that will impress your customers. Which website builder will help you make such a website? This article will answer that. In the next five minutes, learn all about the 10 best website builders for small businesses.
Wix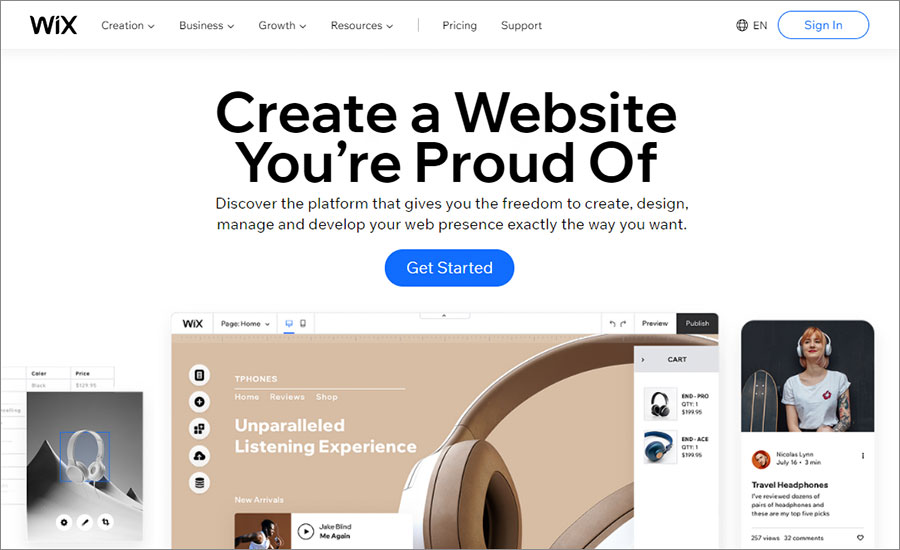 Wix offers over 500 designer-made templates to showcase your products and services. Furthermore, you receive a domain name voucher for a year with paid plans.
Why should you trust Wix as one of the best website builders for small businesses? Because so does over 180 million people worldwide.
Features:
Create a stunning website with scroll effects, animation, and video backgrounds.
Connect over 100 APIs with the Wix Open Development Platform, Velo.
The mobile-responsive themes allow users to navigate the site without any hassle. Furthermore, personalize the mobile version of the site with the Mobile Editor.
Wix offers a personalized SEO plan based on the answers you give about your website, keywords, and location.
Sell your products and services with Wix e-commerce.
Wix Bookings allows customers to book appointments online.
WordPress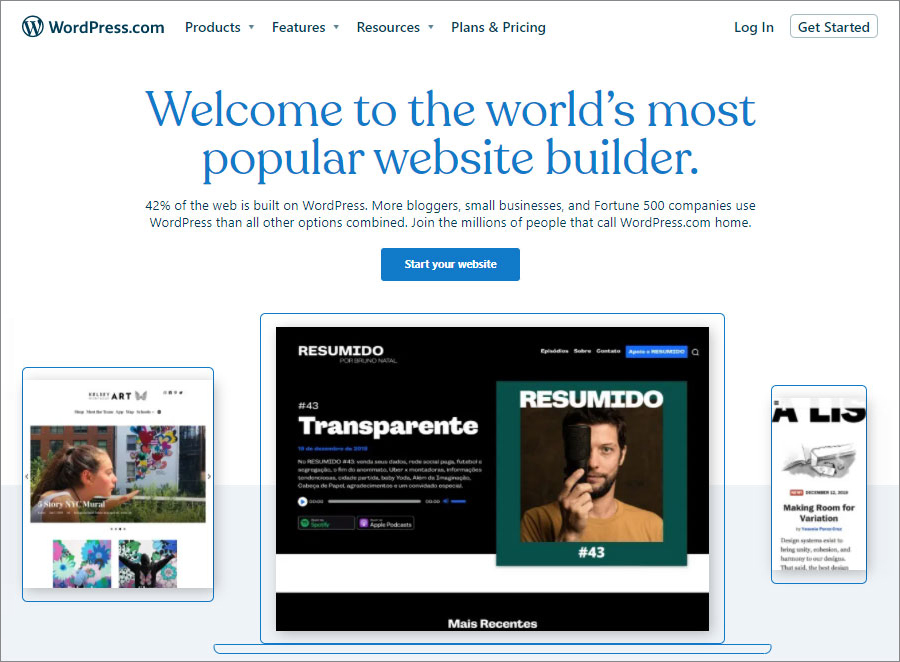 Small businesses, bloggers, and Fortune 500 companies — 42% of the web uses WordPress. That is over 75 million websites. The huge number makes WordPress one of the most trusted website builders for small businesses.
Features:
Create each section just as you like it with over 50,000 plugins. Creating a backup of your sites, collecting leads, creating contact forms — you will find a plugin for everything.
Sell your products or services on the online store. WordPress has tied up with PayPal for payment processing. Thus, you won't need to worry about collecting payments.
The in-built SEO tools make sure your website ranks better on search engines.
Google Analytics helps you to learn everything about user behavior on your site.
Live chat, email, or one-on-one QuickStart sessions — you will always receive help 24X7.
Have international visitors on your site? Create a multilingual site with support for 87 languages.
Squarespace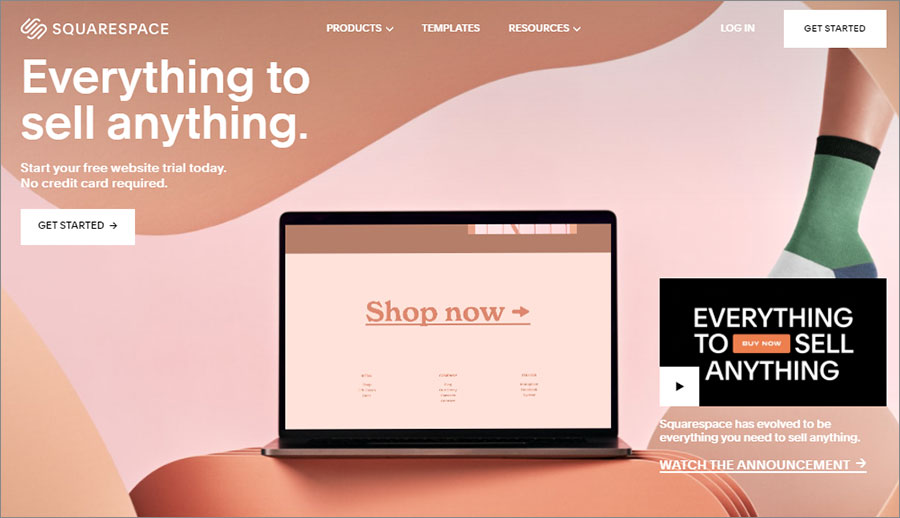 Squarespace offers a free trial of 14 days. Test out the features and decide if you want to use Squarespace to create a website.
The closed-source website builder means no one can add malicious codes to your website. Thus, your personal information and that of your users will always remain secure.
Features:
Showcase your products and services with customizable galleries.
Want to share private work with clients? Now you can with password-protected pages.
Write your journey, announce a new product or service launch, and post informative business-related content with the dedicated blog section.
See what are your best-selling products based on the number of sold units and revenue with Top Products.
Site Content allows you to see which pages users engage with the most.
The Squarespace mobile app allows you to manage your site on the go.
Weebly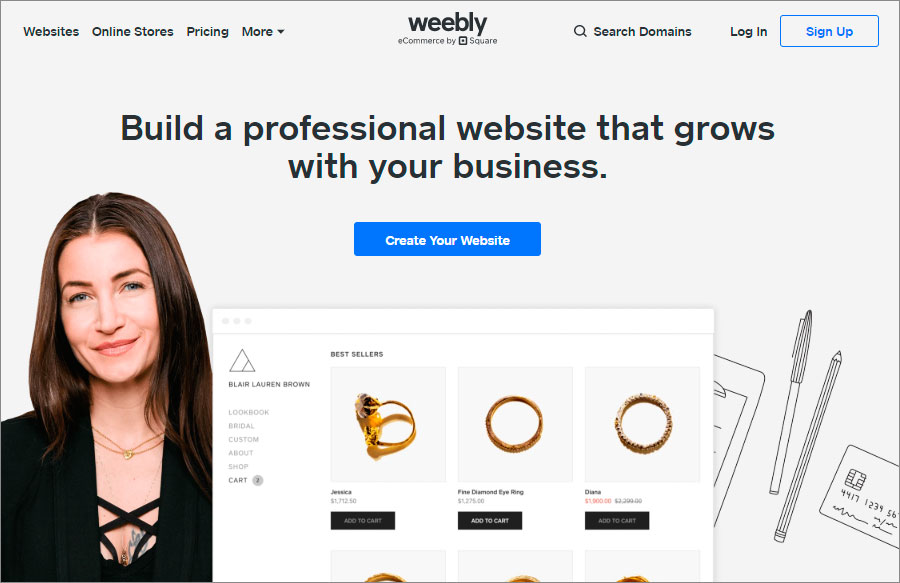 Weebly has tied up with Square product suite. Thanks to the tie-up, the website builder allows you to make a business website with an online store for free.
The website builder offers planning tools and expert starter guides as well. A step-by-guidance translates to less effort and worry on your part.
Features:
Edit your website on the go with the Weebly mobile app.
Integrated marketing tools such as Facebook ads and automated email campaigns allow you to reach more customers.
A customer left products on the cart? Send them an abandoned cart email to push the sale.
In-person events with the entrepreneur community help you learn and grow.
The in-built SEO guide helps you to rank your site better on Google searches.
WebNode
40 million people trust WebNode to build a small business website. The website builder offers a 15-day free trial.
You can showcase your products or services with over a hundred templates.
Features:
You can manage your website on the go with the WebNode mobile app.
Sell your products and services on the in-built online store. Already have an online store? Add the same on your website with a few clicks.
Create up to 100 mailboxes. You can receive emails via Gmail, Outlook, or any other email client of your choice.
Receive customer support 5 days a week. You will always have a helping hand in every issue.
Read the WebNode blog to gain expert knowledge on building a website.
 Shopify
Over 1,700,000 businesses around the world use Shopify. If you already use another e-commerce platform, Shopify offers a simple option to switch.
You can hire an expert from the Shopify Experts marketplace to guide you through building a website.
Features:
Online store, social media, online marketplaces, Point of Sale — Shopify allows you to sell everywhere.
Facebook ads, email marketing, and Google Smart Shopping — Shopify lets you use every way to promote your business.
A single dashboard to manage orders, payments, and orders make the process smooth.
Over 6,000 apps allow you to customize your website.
Shopify Support solves each query you have 24X7.
Strikingly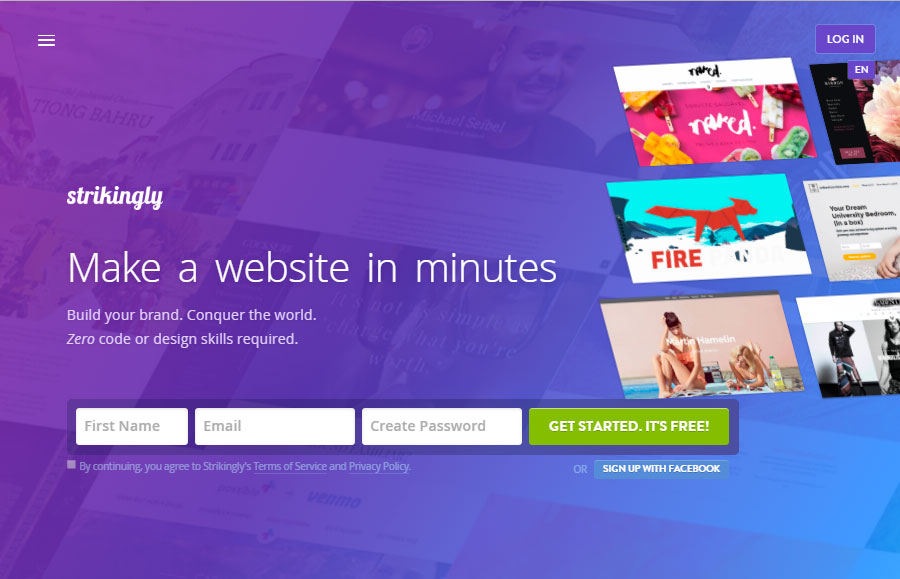 The developers claim you can build a website with Strikingly within 30 minutes. You can build one-page websites as well.
Furthermore, Strikingly allows you to edit templates even after the website is live.
Features:
The in-built e-commerce store allows you to sell your products and services. With PayPal and Stripe compatibility, you never need to worry about payments.
You can use an existing domain or buy a new one.
Manage all the live chat, forms, signups, and newsletters from a single dashboard.
Integrate your social media sites including Instagram, Twitter, and Facebook for better reach.
The in-built HTTP translates to better security. Furthermore, better security helps the website to rank better as well.
Jimdo
Jimdo powers over 20 million websites. The website builder offers a free image library.
Furthermore, all the themes are optimized for mobile devices as well. Thus, no visitor will ever leave your site because they had issues navigating the site.
Features: 
The flexible layouts adjust as per the images and logos you upload to your site.
Jimdo never charges any transaction fee. Thus, you retain 100% of your profits.
The integrated booking tools allow customers to book appointments on the site.
The website builder offers customized return policies and terms and conditions.
Jimdo offers customized GDPR-proof legal pages.
Create a logo to showcase your business with the website builder.
Duda
Over 450,000 websites worldwide use Duda. Among them, more than 15,000 are SaaS platforms and agencies.
The website builder offers 99.9% uptime. Your site will never show an error message.
 Features:
The drag and drop templates allow you to fully customize your site. Furthermore, you can use HTML, CSS, or JavaScript as well.
Duda optimizes each webs page for SEO, schema, and Google Core Web Vitals. Your site will always rank better on search engines.
The website builder allows you to collaborate with clients and receive feedback inside the platform.
You can allow clients and employees access to specific website features.
You can create thousands of websites with existing data.
GoDaddy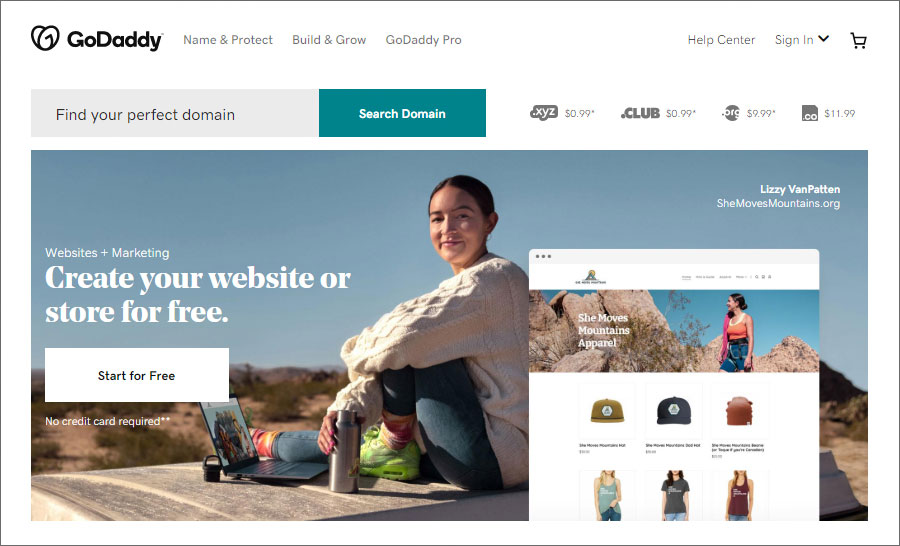 The website builder is also one of the most reputed domain registrars. Thus, you won't have to buy a domain from elsewhere.
Furthermore, GoDaddy offers a reseller program as well. Choose which GoDaddy product you want to sell and GoDaddy will take care of everything from the online store to the payment gateway.
Features:
GoDaddy offers a range of videos you can watch to get started.
Automated backup means you will never lose any of your data.
Reach more customers with email marketing. Promote your products and services to your customer's inboxes.
Learn all about user behavior on your site with Google Analytics.
In-built SEO helps the website to rank better on search engines.
What are the best website builders?
With over 500 templates, an in-built SEO feature, and over 100 APIs, Wix tops the chart. However, if you specifically want an online store, go for Shopify.